For eighteen days, We witnessed with awe and great hope the people of Egypt conduct the most peaceful, the most courageous civil protest and topple the "Pharaoh" from his throne. You inspired us all with your sacrifices and nobility of spirit, and we admired your unwavering democratic commitment to the rights and dignity of Mankind. Egypt is a mosaic of Humanity. We hope every member of the Egyptian society, men and women, young adults and children, Moslems, Coptic Christians, Jews, and those belonging to other religious persuasions would ever live in equality, respect, love, and peace. We share in the glory of your great victories. We are confident that you have both the wisdom and courage to complete the process of democratization as you have already started your wonderful journey. Today we are very proud of your historic victory. Today we all are Egyptians. Our heartfelt wish that you live in Peace with all of your neighbors. Long live the People of Egypt and Glory be to each and every one of you.
Tecola W. Hagos, Editor
February 11, 2011
---
---
Bangladeshi Rape Victim Flogged To DeathBy Anushay Hossain, February 7, 2011
Hena Begum, a 14-year-old old Bangladeshi girl, was publicly flogged recently in Shariatpur, 35 miles outside of the capital, Dhaka after being
accused of having an affair with her 40-year-old old married cousin. According to the BBC, a village court made up of Islamic clerics and elders sentenced Begum to 100 lashes under Islamic Sharia law. The girl lost consciousness after 80 lashes and her family, who were also ordered to pay 50,000 taka (approximately $700), took her to the hospital where she died six days later.
---
---
Remembering the Ethiopians who died on the Streets of Addis
By Teodros Kiros
Revolts and revolutions are world historical events in which birth and death occur. Some humans are born on revolutionary streets. Other are born to the streets to which they flood in defense of their dignity, in defiance of tyranny, and for the sake of a dream, a vision and a plan of life.
---
PM Meles Zenawi's responses to Ethiopia's economic malaise are getting funnier
By Genet Mersha, 5 February 2011
he making of the current frustrations in Ethiopian society have been brewing over a long time. Their origins lay in the political crises that remain unresolved, not that the regime would admit. Then there are the ubiquitous economic crises that have been afflicting over 90 percent of the population. The only solution the government favours has been complete shut off of public space, as a primary step, politics by force and economics by decree,
---
Revolution and Discipline in Egypt; A lesson for Ethiopians
By Teodros Kiros
We Ethiopians, however, must stand with the aspirations of the heroic Egyptian people and support them in body and spirit. Their struggles are our very own. Let us learn from their passions and work for their success.The revolution must succeed, as we too plan our own very soon, with the backbone of our youth, our country dwellers, and those millions of round Ethiopian eyes, impregnated with unshed tears of poverty and hopelessness.
---
---
Conversation with the Creator as an exercise of Care of the Self
By Teodros kiros, January 27, 2011
Two Ethiopians are engaged in a passionate conversation on the idea of
forgiveness and how it applies to the jailed Derg officials. The conversation leads both to an impasse, and they both say that they are going to leave the matter to the Creator.
---
FORGIVENESS, RECONCILIATION, AND PARDON:

A CHALLENGE TO A JUST SOCIETY*

PART TWO: FORGIVENESS AS POLITICAL, ETHICAL, AND LEGAL ISSUE

By Tecola W. Hagos

The best argument usually offered in support of "forgiveness, pardon, and
reconciliation" has to do with the possibility of settling irresolvable political conflicts through compromise and giving the parties to such conflicts new beginnings to live together in peace. The subjects of forgiveness are individuals or groups. Often, such criminal offenders are government officials or members of opposition political organizations. Usually the situation leading to such compromise is the possibility of resolving a political stalemate between such contending groups.
---
Justice and Atonement
A Statement by Le'ul Ermias Sahle-Selassie Haile-Selassie,
Grandson of Emperor Haile Selassie I
Washington, DC: January 24, 2011
The recent activities by some respected Ethiopian Religious Leaders and others to plea for the pardon and the release of the former Derg (Military Officials) officials came as dismaying and perplexing news. It goes without saying that forgiveness and atonement are the moral duty of all of us, but equally adherence to our laws makes society function impartially and fairly. We each have a duty to be forgiving but not forgetting as we strive to uphold the law.
---
The Problem of Pardon
By Waltenegus Dargie , January 24, 2011
The article is based on the last three articles of three persons, namely, "The way to forgive and pardon the Derg" by Eskinder Nega (Ethiomedia, January 14, 2010); "Reconciliation? With whom? For whom? To what end?" by Mekonnen Endalkachew (Ethiomedia, January 19, 2010); and "Forgiveness, reconciliation, and pardon: a challenge to society", by Tecola W. Hagos (Ethiomedia, January 19, 2010). The articles express the insight and philosophy of people whose age, educational background, location, and past history are diverse. While the level and timing are different, all of them have experienced pain at a scale that cannot be considered small.
---
he Care of the self
By Teodros Kiros
The care of the self demands that the individual attends to her soul by developing an internal relationship between self and self, and not self and the church. The latter relationship is remote and external to the soul. The soul must be activated from the inside and the relationship between self and self is internal to the soul. The activity of the soul is a conversation that the self enters into privately, as a conversation between the creator and the lost soul, or the soul, which wishes to become virtuous, become good. The internal parts of the soul, which must be activated, are reason, the desires and spiritedness.
---
Ghelawdewos Araia, Ph.D.
Paper presented at the SOCEPP Canada Conference, January 15, 2011
What is to be done then? The first thing the Ethiopian Diaspora should do is reaching a consensus on some definitional issues with respect to democracy. What is democracy and could it be realized in Ethiopia given the prevailing deficient political culture and the domestic and global parameters that may preclude or promote the development of democracy in Ethiopia?
---
FORGIVENESS, RECONCILIATION, AND PARDON:
A CHALLENGE TO A JUST SOCIETY*
By Tecola W. Hagos
Recent proliferation of articles and comments on the issues of forgiveness, reconciliation, and pardon concerning the convicted Derg Officials, some facing death sentences and others long prison terms, have brought out the confusion, misunderstanding, misapplication, and anger in many of the participants in the discourse and in the general public both in the Diaspora and back home in Ethiopia. I have contributed my fair share to that state of affair.
---
Reconciliation? With whom? For whom? To what end?
By Makonnen Endalkachew | January 19, 2011
While the purpose of my desire to make public my views on this very sensitive and wrenching issue was never to get into a one-on-one public spat with any group or individual, but rather to share views which I felt needed to be shared (and potentially resonated with many Ethiopians), I have been forced to respond (very briefly, mind you) to one riposte that I received from Ato Mulugeta Aserate, who published a piece entitled "Forgiving, Not Forgetting, in Pardoning Convicted Former Derg Officials," (Fortune, Vol. 11, No. 557, Jan. 2, 2011).
---
Wife of deposed Tunisian leader despised by many
TUNIS, Tunisia — Tunisians couldn't stand her even more than they couldn't stand him. The end of President Zine El Abidine Ben Ali's iron-fisted, 23-year rule brought joy to many ordinary people in this North African nation — and they were especially elated at the prospect of life without his wife and her rapacious family.More world news New Tunisian government, but some old faces Tunisia's interim leaders on Monday announced a new national unity government following the ouster of President Zine El Abidine Ben Ali amid massive street protests. Full story
---
Cultural Decadence
By Teodros Kiros January 14, 2011
One way by which to correct this deadly cultural decadence is to engage in thinking and attending to the fundamental condition, of our souls, that I suggested in my recent article, " Regime change without cultural transformation is empty" (Ethioquest, Ethiomedia, Ethiosun, ECAD, Addis Voice, Ethiosun, Tecolahagos.com and Ethiopian unity Diasporaforum.com) That question is; what is the condition of my Soul? I strongly suggest that we examine this question, every single day.
---
MENGISTU HAILE MARIAM (EX-PRES.) GETTING AWAY WITH MURDER! (1) ARE THE UN AND THE INTERNATIONAL CRIMINAL COURT (ICC) ALIVE?
By Kidane Alemayehu, January 13, 2011
In the final analysis, dictator Mengistu Hailemariam's main victims were the Ethiopian people who should, therefore, be the ones who ought to be most keen in bringing him to justice. At the same time, it must be noted that for obvious reasons, the UN, ICC and the international community at large also have at least the moral responsibility to do their part to consider the gross impunity perpetrated by an Ethiopian dictator wherever he might be hiding. The notion that only a particular government should initiate with ICC a case against a dictator like ex-Pres.
---
Concern for Victims Outweighs Compassion for Derg Officials
By The Kassa Family*
January 13, 2011
However, our compassion for the perpetrators of these crimes against humanity cannot outweigh our concern for their victims, or our determination to prevent the atrocities of the Derg from ever being repeated. "When we neither punish nor reproach evildoers, we are not simply protecting their trivial old age, we are thereby ripping the foundations of justice from beneath new generations," said A. Solzhenitsyn
---
Is genocide vs crimes against humanity at issue today?
By Assefa Gultu | January 12, 2011
Nor is it fair to say that the likes of Professor Tecola's argument are out of line simply because he did so passionately. Both have made their case convincingly and, their difference to me is a matter of emphasis, not of substance.
---
Regime change without cultural transformation is empty and cultural transformation without regime change is Blind
By Teodros Kiros
Every Ethiopian ought to know that our country is contaminated by cultural decadence, which is going out of control. Friendships, marriages and collegiality are infested by the DDT of cultural decadence, that we are not even aware of, but which we must attend to as the activity of the soul.
---
Aida, Verdi's opera, stands out as reminder of the on-going Nile dilemma
By Keffyalew Gebremedhin, 10 January 2011
At a time of terrible slump in the global economy, when millions of workers and families across countries have been visited by its adverse consequences, the watchmaker Rolex fêted the international public with six famous opera performances, via CNBC, transmitted at intervals from 24 Dec on. A good gesture as it was, the treat became part of the Christmas celebrations and best wishes for the New Year.
---
THE FUTILITY AND DAMAGING EFFECTS OF ETHIOPIAN PRICE CAPS
Seid Hassan - Murray State University
January 9, 2011
Seid.hassan@murraystate.edu
The government of Meles Zenawi announced that it was imposing price caps on select merchandize goods, the first round of the imposition affecting 18 food items as of January 6th, 2011. After gathering several hundred local merchants at the meeting hall of the PM Office, Messrs. Zenawi, Melaku Fanta who is the general director of Ethiopian Revenue and Customs Authority and State Minister of Trade, Ahmed Tusa, accused the businessmen and businesswomen of price gauging, hoarding and engaging in unhealthy competition.
---
Editor's Note: There is no doubt in my mind that Journalist Eskinder Nega is a highly capable and dedicated professional. My criticism of his recent articles on the forgiveness-pardon issues dealing with convicted Derg Officials ought to be read in that limited range of discourse. Nevertheless, without any condescension but only with my sincere appreciation, I would say that Eskinder Nega has shown us all the right behavior and comportment when facing writers, even rude ones, with his great restraint and professional discipline one can see in his response to my sharp (maybe even belligerent) criticism of his articles dealing with the pardon issue of convicted Derg Officials.
Ethiopia: The politics of imagined genocide
By Eskinder Nega | January 7, 2011
Top leaders of the Derg minus Col. Mengistu H. Mariam appear before court on January 11, 2007 in Addis Ababa (AP Photo/Les Neuhaus)
The cries of "Shame on you!!!" by groups of protesters occasionally resonate outside the offices of the American Civil Liberties Union (ACLU). A wide range of issues irk the protesters. Sometimes it would be the ACLU's spirited defense of the First Amendment rights of the Ku Klux Klan. At other times, it would be the no less passionate defense of Neo-Nazis and scores of other fringe groups.
---
Eritrea executed 17 Ethiopian fighters: Report
Ethiomedia | January 5, 2011
WASHINGTON, DC - 17 members of the Ethiopian People's Patriotic Front (EPPF), including a former EPPF secretary general, have been summarily executed and buried in a mass grave in a remote part of Eritrea, according to a report by EPPF fighters who fled to Ethiopia. The rebels who had sought Eritrean support in their fight against the government of Prime Minister Meles Zenawi were murdered shortly after the end of a general congress held in February 2010 in rural Eritrea. The report couldn't be verified independently. Those killed were singled out for raising questions like:
---
Genocide and the unfinished debates
By Abebe Gellaw | January 4, 2011
s a matter of fact, I hold both writers in high esteem and have no desire to take sides except for the content of the arguments made with regard to genocide in the Ethiopian context. I would, however, be disingenuous if I fail to point out the fact that Tecola's argument seems to make a pointed attack on the validity of Eskider's analysis. Moreover, the writer used accusatory statements and phrases that have negatively impinged upon the quality of his points.
---
Editor's Note: With his usual eloquence and incisive honesty and clarity, Prof Messay Kebede has presented us with an alternative explanation to the relationship between TPLF and EPLF, which also points out the contradiction in Asgede Gebre Selassie's main theme of conspiratorial stance of the Leaders of the TPLF. Messay has also challenged aspects of my take of Asgede's book, which I welcome greatly. This is the type of discourse and engagement of ideas that our Website greatly encourages. As Editor, I am grateful and thankful to my distinguished friend Messay and to all who share with us views and ideas critical or otherwise. We all benefit from such criticisms and insights. This is one reality in life where no one loses. TH
About Asgede Gebre Selassie's Gahdi I and the TPLF


By Messay Kebede
January 3, 2011
---
Ethiopian ethnic federalism: grooming regions for independent statehood or a genuine coming together?
Firew Kebede Tiba, PhD January 2, 2011
Commitment to a federalism project has to be full-hearted. I do not think that the makers of the constitution were fully committed to the modern federal Ethiopia project. The Constitution is based on the assumption that if this daring experiment succeeds, that is fine, if not we can pack up the willing pieces and move on and establish our independent fragmented states until the next bus stop. One either wants to be with Ethiopia or not, and that has to come out loud and clear in the constitution. It is important to look at the history of the TPLF to understand this half-hearted modern federal Ethiopia project.
---
Coptic Church bombing in Egypt is latest assault on Mideast Christians
By Borzou Daragahi and Amro Hassan, Los Angeles Times
January 1, 2011, 3:39 p.m. Reporting from Beirut and Cairo
The violence lately has taken an ominous turn. In November, the militant group Al Qaeda in Iraq announced that Coptic churches in Egypt would be targeted until two priests' wives who were allegedly locked up in Coptic monasteries after converting to Islam are freed. Al Qaeda militants in Iraq have also referred to the women in justifying attacks on once-vibrant Christian communities in Baghdad and around Mosul .
---
Ethiopians should be united when it comes to the Nile but avoid placation
Given the deeply held unholy Egyptian bitter resentment against Ethiopia, what would democrats, who happen to disagree with the current regime, do if Egypt launches punitive actions against Ethiopia's newly built projects? Would the democratic forces ally themselves with Mr. Zenawi, even though they know that he is a despicable despot and has committed several treasonous crimes against the interests of their beloved country, if Egypt happens to trigger havoc against Ethiopia? My answer: "All things considered, and when push comes to shove:
---
---
Re: Derg Members (Mahal Sefaris) in the Name of Free Press
From: Dereje Biru Yadete
Letter to the Editor:
Mengistu, after the killing of all those people, is laughing and smiling. One of the things he said in his interview is this " who was I supposed to live power to? Woyane?" and then he laughs. He laughs because, for him what a normal human being would call a "person", is an ant in the colony whose purpose in life is nothing but serving his master.
---
Silly Hair Splitting: No Pardon for Genocidal Criminals
The Crime of Genocide vs. the Crime of Politicide
By Tecola W. Hagos
There seems to be a confused understanding of the interplay of international agreements with domestic sovereign power in Eskinder's analysis. First of all, one must acknowledge the fact that a State's national sovereignty and independence is reflected in its power to prosecute and punish crimes committed within its territory. In recent developments that fundamental power has been expanded with the concept of "extraterritoriality" having been incorporated in very many national laws to prosecute and punish crimes committed against the citizens or interest of such a nation else where in the world.
---
I too am aggrieved by DPM & FM Haile Mariam Desaleng's interview on the nifty ITMN
By Genet Mersha, 29 December 2010
It is natural for every people to expect to see an accomplished and informed diplomat representing their nation on the world stage. Unfortunately, most people are not aware that diplomacy requires quick thinking, ability to relate to reality and history, a sense of international law, economics and familiarity with precedents in international life. Ato Haile Mariam could be a good cadre, a loyal ally, and a good person for that matter. But he is not material for diplomacy. I would not worry much about the language side of his deficiency; in fact, it is quite all right. He can get by. The tragedy is that he lacks the facility for quick thinking,
---
---
On the Interview: Hailemariam Desalegn on India's ITMN TV
By Ephrem Madebo | December 28, 2010
The Ethiopian Diaspora knows unequivocally that the land grab has sparked fear and anxiety in Ethiopia and the Diaspora is worried that there are many troubling questions raised by the land acquisitions, particularly in terms of impacts on small farmers, their land, and their livelihoods. The Diaspora also knows that there is a lopsided power relation in Ethiopia that small farm holders have no political voice, making them vulnerable to exploitation.
---
---
Revisiting "Two concepts of Ethnicity"
By Teodros Kiros
What is Ethipianity other than syntheses of all the ethnics and language groups in modern Ethiopia? An Oromo is merely an Ethiopian who lives all over the vast stretches of the Ethiopian lands, so it the Tigrean, the Gambellan, the Shoan, the Gurage and the Southerners and all the others. The list is long but Ethiopianity is short
---
A MERRY CHRISTMAS AND A HAPPY NEW YEAR–(EUDF)
December 25, 2010
We, the Founding Members, are all Ethiopians who have come together for the purpose of upholding, defending, and promoting Ethiopia's fundamental interests and nationhood. We hail from different social, religious, regional, and professional backgrounds. We are economists, educators, engineers, entrepreneurs, lawyers, physicians, military officers, enlisted men, and so on.
---
THE MISREADING OF THE CONCEPT OF PARDON AND FORGIVENESS
By Tecola W. Hagos [December 25, 2010]
Introduction
I read the heart wrenching recent letter of Mekonnen Endalkachew, the son of the last Prime Minister of Emperor Haile Selassie I, Endalkachew Mekonnen, who was murdered along with about sixty high Ethiopian Government Officials by the order of Mengistu Hailemariam. The decision to execute the Officials, which included retired Patriots who fought the Italians five years occupation, was taken by a unanimous vote of the 109 Derg Members that included individuals who are at the present time either waiting execution or serving their prison sentences.
---
Pardoning Derge Officials? Time to Reflect in Due Course
Getachew Mequanent
We all acknowledge that Derge had brought about fundamental change in Ethiopian society including radical land reform and establishment of autonomous local administration. In my experience, many Ethiopians also blame all political groups for creating the 1970s political anarchy and civil strife. Yet, Derge leaders adopted a policy that resulted in the arrest, torture and murder of not only their political opponents, but also innocent people including government bureaucrats. The practice of throwing the dead bodies of young people in front of their parents' houses, and asking parents to pay for bullets (wasted to kill their children),
---
Unity or Ethnic Federalism: A brief response to Professor Andreas Eshete's The uses and Abuses of Cultural Diversity: African Past and Ethiopian Present.
By Teodros Kiros
This response is sketch of a longer scholarly article, in which I woul like to invite Professor Andreas to engage in a democratic dialogue on the behalf of the Ethiopian public. I know Professor Eshete loves his country as much as I do, and that we are merely expressing this love differently, a function of our human diversity and our sincere understanding of our Ethiopianity.
---
What price justice? What value life?
By Makonnen Endalkatchew
December 23, 2010
For those that are actively pursuing this issue and suggesting that justice has been already served, I have but one thing to say……SHAME ON YOU! Using this very sensitive issue to advance whatever personal agenda you might have is despicable and a major disservice to this blessed country of ours, and shows great disrespect for the many valuable Ethiopian lives which were lost during those dark 17 years of Dergue repression.
---
Iraqi Christians cancel Christmas amid threats
'We cannot find a single source of joy that makes us celebrate,' archbishop says. KIRKUK, Iraq — Iraqi Christians on Wednesday called off Christmas festivities across the country as al-Qaida insurgents threatened more attacks on a beleaguered community still terrified from a bloody siege at a Baghdad church two months earlier.
---
People traffickers kill Orthodox deacons in Sinai DesertChristian Solidarity Worldwide calls on Egypt to take decisive action after two deacons murdered by people traffickers
by Brian HuttPosted: Wednesday, December 15, 2010, 17:12 (GMT)
Fears for hundreds of refugees and asylum seekers being held captive in the Sinai Desert have intensified amid reports of the murder of two deacons. Christian Solidarity Worldwide heard of the killings in a report from Italian human rights group Agenzia Habeshia. The two deacons were among 100 Eritrean refugees separated by their captors from a larger group which also included Sudanese, Somalis and Ethiopians refugees.
---
Book Review and Miscellaneous Comments
- Teodros Kiros, Philosophical Essays, Trenton , NJ: The Red Sea Press, 2011, pages 101. $19.95.
- Teodros Kiros, Ethiopian Discourse, Trenton , NJ: The Red Sea Press, 2011, pages 236. $24.95.
By Tecola Worq Hagos
It is not an exaggeration when I state that there is much animosity and hate in the lives of Ethiopians, especially in the political lives of Ethiopians back home and/or in the Diaspora. Teodros's essays are like a breath of fresh and clean air wafting down the stale and stinking writings of bloggers and chat-room intellectuals and those who write ad nauseam with a single theme of "I hate Tigrayans or Woyanes," in hundreds of variations. Writing in the best interest of the public without biases or prejudices is a mark of a wise person, but it requires also moral courage and excellent academic training and native intelligence.
---
Obama's man on global development
From Edvige Jean-Francois, CNN | December 14, 2010
CNN STORY HIGHLIGHTS
For a year now, Yohannes has headed the Millennium Challenge Corporation (MCC), a U.S. government agency that gives grants to select countries to aid in their development. Born in Addis Ababa, the self-made businessman who came to the United States in search of a better life says his background helps inform his work at the MCC. "One thing you learn in growing up in Ethiopia and Africa at the beginning is poverty is dehumanizing," said Yohannes. The MCC's specific mission is to reduce poverty through long-term economic growth. To achieve that goal, the MCC is run "just like a business." It makes sure the countries that are on the receiving end of financial aid are creating a sustainable environment for growth, Yohannes says.Tapped to lead the agency by U.S. President Barack Obama, Yohannes says the role has given him an opportunity to give back to his adopted homeland.
---
Book Review
Jane Anna Gordon and Lewis R. Gordon, Of Divine Warning; Reading Disaster in the
Modern Age (Paradigm Publishers, 2010)
Book Review by Teodros Kiros
Jane Gordon and Lewis Gordon have produced a masterpiece on reading disasters in the modern age. The book is at once analytic, historically sensitive and imaginative, feature that we have come to expect from these two committed writers, each time they collaborate and produce books of enduring quality.
---
ከአረጋዊ በርሀ
---
THE METAPHYSICS OF FRACTAL POLITICAL PHILOSOPHY*
By Tecola W. Hagos
From the outset, let me make it absolutely clear that the new Fractal Political Philosophy I am introducing into our discussion is not a diversionary tactic. My writing of this Article is not an underhanded and confusing intellectual endeavor aimed to divert the attention of heroic Ethiopians struggling against the brutal regime of Meles Zenawi and his Mehale Sefari supporters. They are equally responsible for the loss of our human rights and dignity. I believe Meles Zenawi and his Mehale Sefari supporters have committed treason against the Sovereign State of Ethiopia and Ethiopians.
---
A NEW BOOK AND MOVIE DVD BY DR. FIKRE TOLOSSA
Dr. Fikre Tolossa has released his book, The Hidden and Untold History of the Jewish People and Ethiopians, and his feature film, Multicolored Flowers, both in print and electronically. Did you know that Melchizedek,
builder and King of Jerusalem, the father of Ethiop, the forefather of Ethiopians, and Abraham, the forefather of the Jews, were friends as far back as 4000 years ago? Did you know that Abraham and kings in Palestine bowed to Melchizedek, the High Priest and King of the Most High God, and paid him tithes in return for his blessings? Did you know that in the veins of the Lord Jesus Christ did flow Ethiopian blood because he descends from King David whose mother, Adoli called by us Hable', and whose great grandmother, Ruth, were Ethiopians?

---
Institute for Horn of Africa Studies
San Diego, California
www.ihasa.org
Ethiopia in Transition: War and Peace and the U.S. Role
Special report by the Institute for Horn of Africa Studies and Affairs (IHASA)
Dec 01, 2010
The discourse of the panelists focused on the historical and political manifestations of the nationality question in Ethiopia and its impacts on regional stability. Professor Edmond Keller, a re-known scholar in the affairs of the Horn, and a keen observer of ethnic politics in Ethiopia, presented a critical and historical evaluation of elections in the last few years in the Somali region under Ethiopian jurisdiction.
---
Thanksgiving: Thank You "The Good Old USA "
By Tecola Worq Hagos
There is no substitute for the wonderful feeling of fulfillment I had in the
simple act of walking down to Lafayette Park, secure in my person without fear of any abuse by anyone, from my apartment a few blocks up 16th Street NW near Scott Circle, walking around for few hours on Weekends reveling in the Red, Yellow, and White tulips in full bloom and admiring the majestic trees surrounding the great statue of Lafayette, the hero of the great revolutionary war for independence. Of course, there, in the distance, is the White House with its classic Greek façade (front), even though I prefer the back façade. I always thought of the White House not being grand enough for a President of a powerful and wealthy country like the United States .
---
---
Ethiopian observer Editorial
An Image of Ethiopia: Racism in Santon's dark heart
November 18, 2010
Our motive was none other than the best interest of our country and defend our ethnic identity as true Ethiopians. Your organization needs innovative discourse in order to get off the credibility tracks it is currently on. As a President you must have vision and wide and far-reaching; but how can that vision be brought into action while you are advocating violence and havoc. A leader should not only be but luminously and unmistakably appear to be noble you are totally disconnected in every act of what your organization claim to become. The outcry against it as unduly and unwisely vindictive and we strongly condemn it.
---
HAILE GEBRESELASSIE:
Mitiku Adisu
---
Book Review and Commentary

Asgede Gebre Selassie, GAHDI 1, Signature Book Printing, 2007. Pages 240. $20.00

By Tecola Worq Hagos

The importance of the book is not for its literary beauty or eye-popping drama, but for more important pursuit of truth and understanding of the events that shaped and continue to shape our current Ethiopian political and economic life. In essence, this book is a record of the day to day dairy of a warrior, which was compiled later in a readable narrative form. Asgede included also a brief autobiography at the end of the book that helps his readers to place him in the historic sequences that shaped us all as Ethiopians of the Generation that came to its own in the 1960s and 1970s. Asgede was one of the eleven original founders of the TPLF.
---
---
Aklog Birara Ph.D., WAVES: ETHIOPIA'S ENDEMIC POVERTY THAT GLOBALIZATION WON'T TACKLE, BUT ETHIOPIANS CAN, Signature Books, 2010, pages 497. $25.00.
By Tecola Worq Hagos [October 28, 2010]
As I have stated many times, Waves is truly a remarkable book that must be read by everyone capable of handling a complex, highly intellectual, deeply provocative, and analytical book. Aklog is a very optimistic individual as one can see his personality reflected and embedded in his brilliant book, and despite the fact that he ended his book with a pessimistic sentence:" The bleak socioeconomic reality presented in this book makes it urgent." The effect of this monumental book on me, however, is to lose totally my hopes for Ethiopia . I was depressed for days, dazed, and brooding over some of the statements of Aklog in his incredible book, which ideas seem to have been glued to me. The truth about the fragility of Ethiopia is simply unbearable to me—obviously, a person of weak constituency. How could a nation buried under so much suffering and poverty, and horrible governmental policies, and corruption ever find its way out from such nightmare? One may think of that overwhelming unvarnished truth presented by Aklog as the one deficiency of this great work for it forces us to look at ourselves and lose hope.
---
National Reconciliation and National Development in Ethiopia
Ghelawdewos Araia, PhD.
October 22, 2010
On the other hand, if the EPRDF initiates a more inclusive politics, iron out its differences with the opposition, especially with the opposition that is eager to contribute to Ethiopia's development, the newly restructured Ethiopian politics will dialectically reveal new opportunities and it may even deliver unexpected but promising vistas for future generations of Ethiopians.
---
Press Release October 19, 2010
Ethiopian Community are fighting for justice at the savage Murder of Ali Mohammed in Washington, DC

By Advocacy for Ethiopia, Ethiopian-American Civic Advocacy (For further information please call: 301-326-7469 or E-mail: djverse06@yahoo.com)The unarmed man, Ali Ahmed Mohammed, had already been apprehended, tackled to the floor, and effectively restrained by the four DC9 employees, and thus couldn't have caused any physical harm to them nor fled. Nevertheless, the DC9 employees proceeded to repeatedly stomp him in the head, kick him, and beat him in cold blood, killing the young 27-year-old man
---
Welcoming "Eritrean" Students at Addis Ababa University
Tecola Worq Hagos [October 14, 2010]
I read the news that Addis Ababa University has accepted almost two hundred students from "Eritrea." This is one decision that I applaud greatly. I applaud the President of the University of Addis Ababa for making such a bold and wise decision. This is the type of political decision that endears the leadership of the Ethiopian Government to the People of Ethiopia that includes Eritrea. Despite the harsh reality at home of a brutal and violent Government of Meles Zenawi, the People of Ethiopia still have great decency and human compassion. At times, such benevolence rubs on to Meles Zenawi too. Over 100 Eritrean students enrolled at Addis Ababa University
---
---
---
We, at this Website, are very Happy at the release of Judge Birtukan Mideksa from prison. She should never have been imprisoned in the first place. We are absolutly supportive that Birtukan is home with her family (daughter and mother). We hope Meles Zenawi will release the thousands of political prisoners all over Ethiopia. There is no justice at all in imprisoning anyone for purly personal political reasons. God Bless Ethiopia!
---
By Zeg Fanta
mailto:zegfantam@aol.com
Finally, a prediction: Today, Ethiopians have to bury their grief and sorrow deep into their hearts and watch from distance a few men and women in the same league celebrating the crowning of another Meles in Seattle. Ethiopian-Americans and defenders of American
democracy shall celebrate their own commemoration of defiance and victory together with the Ethiopian people at Home when their time comes around. Tomorrow will not be like today for we shall be on the other side of the river, and as the Greek Philosopher Herodotus once said about the Fair and Just Men, the Ethiopians shall also be judged only by fair and just people and societies.
---
Towards a Policy of Engagement with Eritrea
Getachew Mequanent
The downfall of Issayas could result in the disintegration of this apparatus and the emergence of powerful military lords who will fight to protect their economic and power turf. It could result in a horrific situation more like that of Somalia. Al-Qaida could enter lowland Eritrea and Ethiopia will be faced with another security threat from the North. The consequences are serious. Ethiopians will gain nothing from seeing Eritrea slide into anarchy. Nor would it matter if the Ethiopian government later agrees to host displaced Eritreans or constructively engage with any post-Issayas governing entity. The time is now to help the Eritrean people.
---
President Girma W/Ghiorghis, Can You Feel the Family's Pain?
Revisiting Birtukan Mideksa's Re-incarceration Case
By Tesfaye Habisso
In politics, the pardon granted the culprit (who sometimes is but a vanquished adversary) produces the happiest effect in favour of the power granting it; it impresses the minds of the people with the spectacle of power and greatness, and at the same time disarms the parties. The grantor of pardon has so much to gain by clemency, he derives so much glory from it, that in almost every instance it is a piece of good fortune to have an opportunity to exercise clemency. Clemency, it is true, may have its dangers, but neither is implacable severity without its dangers; the latter produces terror, which offers but an unsteady basis to power, and provokes retaliation. If we cannot help going to extremes it is better to sin by an excess of clemency.
---
"The delimitation (ድንበር መተለም) and demarcation (ድንበር መትከል) of the Borders of Ethiopia : The subtlety or illusions of international law and international relations, with focus on the Western Borders of Ethiopia with the Sudan , and the question of Badme and Port Assab."
By Tecola Worq Hagos [September 26, 2010
The case or situation of the border dispute between Ethiopia and Eritrea should have been left to mature and for the fog of confusion of legal principles and factual matters to clear up. The main reason for all the controversy surrounding the decisions of the two Commissions has to do with immature and rushed process for adjudication a controversy that had its source in hundreds of years of history and rivalry. Temporary peace would have been maintained without the rush to settle the controversy in a legal forum. The Framework Agreement of 1999 and Agreement on Cessation of Hostilities of 2000, even with their limitations did provide such breathing space. The creation of the Boundary Commission was a serious failure of statesmanship of Former Presidents Jimmy Carter and Bill Clinton.
---
EPRDF's plot to undermine our resolve to build democracy in our countryshall be foiled by the peaceful struggle of our people
A press statement from MEDREK
One of the defining characteristics of the EPRDF regime, as observed in the last 20 years, is that it is highly erratic in its positions and as the result of the unpredictable nature of its system, we find it difficult to trust it and to plan anything in any meaningful way either individually or in group.  Despite this reality, EPRDF prides itself in being led by plan and continues to boast that it is bringing us "rapid growth." Without explaining adequately what happened to the promises it had made to us five years ago, the EPRDF is currently engaged in a propaganda campaign telling us that it will enable us to be self-sufficient in food within the next five years, that the economic transformation will be fully realized and that it will be time for the economy to be led not by Agriculture but by Industry. This EPRDF habit of lining up an array of false promises in the economic sphere is becoming prevalent in the political field as well.
---
They don't give a dam about development
Spiked.on-line, a conservative UK opinion website
Recently, a group of international NGOs has been leading a campaign to stop the building of the Gibe III hydroelectric dam in Ethiopia. They say the dam will disrupt the local ecosystem and the traditional lifestyles of 'indigenous people'. So why are these groups, normally so vocal about geographical displacement, not up in arms about the tragedy that has unfolded in Ethiopia over the past few weeks? At least 19 people have died and 25,000 have been displaced because of floods.
---
Shame on You Senators Feingold and Leahy [Draft Bill S. 3757]
By Tecola W. Hagos
September 5, 2010
The real reason for the draft Bill "Support for Democracy and Human Rights in Ethiopia Act of 2010," S. 3757 sponsored by Sen. Russell Feingold (D-WI) with Sen. Patrick Leahy (D-VT) as a co-sponsor (August 5, 2010) is to benefit Eritrea through the scheme that was part of the Clinton Administration's fraudulent involvement as a broker of "Peace" while promoting the single interest of Eritrea and its own, by setting up a corrupt arbitration entity called the Ethiopia-Eritrea Border Commission where the outcome of any of its decision was already predetermined by the Algiers Agreement of 2000 concessionary provisions that resurrected long dead and defective colonial period international instruments of over one hundred years ago. In section 3 (5) of the Senate draft Bill it is clearly stated:
---
---
More Questions For Colonel Mengistu & Leadership Criteria
By Fikre Tolossa, Ph. D.
Editor's Note: This article by Dr. Fikre Tolossa is highly readable and pertinent to the on going focus on Mengistu Hailemariam, a brutal savage that ought to be hunted down like a rabid dog for the countless murders he committed and for the hundreds of thousands Ethiopians who died and suffered due to his direct or indirect orders. Although, I appreciate Fikre's courteous language, I do not agree with his assessment that Mengistu Hailemariam was not corrupt. Even when Mengistu Hailemariam run away in fear in 1991, abandoning his loyal supporters, into Kenya and on to Zimbabwe, he stole millions of dollars and the national property of Palace limousines and furnishings of the old Imperial Palace. When it comes to pedigree, Mengistu Hailemariam is not even an Ethiopian. Just being born in Ethiopia does not make one automatically an Ethiopian for leadership of any kind in Ethiopia. One must be historically connected with the Ethiopian population for generations. Both of Mengistu's parents were directly from Turkana area of Kenya and the Southern Sudan boundary region before they came into Ethiopia as first generation immigrants (to use a polite term). He has no real connection with the people or history of Ethiopia. Evidence: he does not have a single blood-relation, such as uncles, aunts, and/or cousins of what ever degree in Ethiopia on either of his parents' sides. Mengistu Hailemariam is just an apparition and a nightmarish character from the depth of Hell. I would also add long family history of decency and service to any Ethiopian community as criteria for leadership in addition to those enumerated by Fikre. TH
---
Arundhati Roy on Obama's Wars, India and Why Democracy Is "The Biggest Scam in the World"
Click the link below to watch the video:http://www.democracynow.org/2010/3/22/arundhati_roy_on_obamas_wars_india
ANJALI KAMAT: We spend the rest of the hour with acclaimed Indian writer and activist Arundhati Roy on the dark underbelly of India, a country that prides itself on being known as the world's largest democracy. Earlier this month, when Forbes published its annual list of the world's billionaires, the Indian press reported with some delight that two of their countrymen had made it to the coveted list of the ten richest individuals in the world.
---
Energy and Security Issues in the Red Sea Transforming as the Age of Gas Begins in Earnest
Written by Gregory R. Copley
Thursday, 26 August 2010 13:56
Major new energy issues are about to transform still further the strategic balance of the Horn of Africa and the Red Sea, with foreseeable consequences for the global energy market over the coming decade. Soon-to-be-evident new wealth in the Red Sea/Horn of Africa region will transform the intensity of conflict there, which in turn will affect not only the region, but the world's most important trading route: the Red Sea/Suez sea line of communication (SLOC)
---
---
Fyodor Konyukhov preparing for an expedition to Africa
Voice of Russia, Read More
The famous Russian traveler Fyodor Konyukhov has become the first European to see with his own eyes the legendary Arc of the Covenant that preserved the Scrolls received by Moses on the Mount Sinai.
This is the holiest relic of the Coptic Christianity. It has never been shown to any non-consecrated person. Most likely, this may be the reason that led to many theories about the place where it is being preserved. At a chapel in the ancient capital of Ethiopia, Aksum, the Ethiopian priests showed the Arc of the Covenant to Fyodor Konyukhov who has recently been ordained deacon by the Russian Orthodox Church, and is preparing for an African expedition with the blessings of the head of the Russian Orthodox Church Kyrill. Sharing his impression Fyodor Konyukhov has this to say.
---
---
Crying in Silence
During the last 35 years more than half a million Ethiopians have settled in Western Europe, North America, and Australia. Many Ethiopians in the Diaspora have been uprooted and exposed to various challenging social adjustments which are emotionally taxing starting from the very start of the flight and all the way to the safe haven that the West represented. Life as an immigrant in the West is never easy but comes with many daily challenges and existential insecurity.
---
The Time is Right to Unify the Ethiopian Orthodox Tewahedo Church By Getachew Mequanent
Finally, we hope that Diaspora interest groups would take the initiative created by the Council of Peace and Unity of the Ethiopian Orthodox Tewahedo Church positively, and restrain themselves from making negative remarks or taking sides. We all know that the Ethiopian Diaspora clergy consists of intellectuals who adhere to strict discipline and no one in the right mind should think that they would be swayed easily by anything less than the unity of this ancient church and addressing the interests and aspirations of the Diaspora masses.
---
Tamagn Beyene: The Artist as Critic exposes the interiors of hate inside the crucible of TPLF.
By Teodros Kiros (PhD)
The artist heroically advised the audience to fight this vision through a counter vision of a genuine Ethiopianity, which ought to be promoted through the new media of Esat, the harbinger of change, unity and brotherhood of Ethiopians of the new generation.
---
BOOK REVIEW AND ANALYSIS
Ye Colenel Mengistu Tizita, Volume II (The Reminiscence of Colonel Mengistu Haile-mariam)
Published by Kibru Publishers. Addis Ababa. 2002 (Eth. Cal) Pages 183 Author, Genet Ayele.
Reviewer, Fikre Tolossa, Ph. D.
---
A NATIONAL CALL: A Reminder From
The Ethiopian Border Affairs Committee
July 7, 2010
The Ethiopian Border Affairs Committee is delighted to express its satisfaction with the substantive discussion carried out by the Conference on Good Governance, Peace, Security and Sustainable Development in Ethiopia and the Horn of Africa, held at Crystal City, Virginia, from April 9-11, 2010.
---
World's first illustrated Christian bible discovered at Ethiopian monastery
By Daily Mail Reporter
Last updated at 5:33 PM on 5th July 2010
The world's earliest illustrated Christian book has been saved by a British charity which located it at a remote Ethiopian monastery. The incredible Garima Gospels are named after a monk who arrived in the African country in the fifth century and is said to have copied them out in just one day. Beautifully illustrated, the colours are still vivid and thanks to the Ethiopian Heritage Fund have been conserved
---
Watch Where You Point That Finger, Madam Clinton
July 07, 2010
By Tesfaye Habisso
What are American soldiers doing in Iraq today? Bringing peace, democracy and prosperity to the Iraqi people as often trumpeted by the occupiers, or dehumanization, exploitation of oil and other natural resources, mass destruction and havoc upon millions and millions of innocent civilians day in, day out, since they invaded Iraq? The U.S. public should know that the rest of the world does not hate Americans and America (as people from the whole world ardently yearn to immigrate to the USA, the land of freedom and great opportunities) but the arrogant and satanic policies of successive U.S. governments.
---
Editor's Note: I do not know who ጎማ እግሩ is, but the struggle he was engaged in and the many brave young Ethiopians he led may be very well known to me. He might have been in some command position when EPRDF finally entered Dessie. My own brother, Freedom Fighter Tekleabib Hagos (Tekleai) now deceased, was one of the fighters who came through that region and stationed in his place of birth, Dessie. This narration by ጎማ እግሩ is of particular significance and importance to me and to all, I hope. What we have in ጎማ እግሩ is a truly great Ethiopian, a patriot, a liberator, and someone with humility, and above all who had transcended petty ethnicism and envisioned the whole of Ethiopia with all of its people as a great single family of impressive history and in the process of transformation. The reason for posting ጎማ እግሩ's fabulous narrative here is to remind us all that there is something worth fighting for in our Ethiopia even when we are greatly discouraged, as I was due to the results of the 2010 National Elections. And when the dust settles, we are after all a band of brothers and sisters. Thank you ጎማ እግሩ for your sacrifice and faith in the Ethiopia we all love. TH
---
Harvard student won't be deported
Undocumented 19-year-old gets immigration reprieve
Editor's Note: At this Website, we are most gratified and ecstatic about Harvard's support of one of its brightest students, Eric Balderas, who was to be deported by the immigration authorities as an illegal alien residing in the United States without proper documentations. Harvard is not just the best and the greatest University in the World, but an institution with high moral and ethical standard of conduct. I wish other institutions of higher learning will adopt such moral and ethical standards that transcend mere technicalities and look at the real human condition with compassion and understanding. Hooray for Harvard! TH
---
Editor's Note: The distinguished sociology professor, author of numerous articles and books, and the great patriot on behalf of Ethiopia, Professor Donald Levine of the University of Chicago had written a short note on his reading of the essay by Tecola W. Hagos titled "New Version, Bonsai Ethiopia: Aesthetic Beauty and Artistic Beauty [A Diversion from Fixation on Politics]" posted on May 10, 2010 in this Website. Professor Levine has graciously permitted me to share his precious insights with my readers. I have herein posted the short but profound comment of Levine. I invite all to participate in a discourse on Aesthetics and Philosophy using this Website as a Forum. Many thanks to you all. TH

Ijjig betam woud Tecola!I am glad you wrote this piece let alone shared it with me. It touches many spots where I live, as you doubtless intuited. My own particular affinity for aesthetics used to lie with music, yet I have enormous if ungratified yearnings to immerse myself in all the worlds of aesthetics as of art.
---
The Quagmire of the Opposition and the Way Forward
Messay Kebede
Before reflecting on the way ahead, it is imperative to assess correctly the outcomes of the recent parliamentary election. People have reacted diversely to my previous article concerning the election (see "Yes, a Fake Election, but for what Purpose?"), with many disapproving my characterization of the outcome as a "defeat of the opposition." According to my critics, the blame should be put on Meles, who rigged the results, intimidated both voters and candidates, and repressed the voice of opposition in more than a thousand ways.
---
THE WORLD FULLY EMBRACES DEMOCRATIC SOUTH AFRICA
By Genet Mersha, 11 June 2010
I am enamoured by the glory South Africa has brought to Africa, much as by the greater attention this has focussed on the region. That should facilitate introspection and more outside eyes, especially in the light of the emergence of new crops of oppressive single party authoritarian states of latter concoction, which in the name of democracy are further damaging the already poor image of Africa with their undemocratic and corrupt practices.
---
Ethiopia's Missing Opposition: What Is To Be Done?
by Tesfaye Habisso, June 08, 2010
We are still at the stage of democratization, embarking upon a process which, we hope, will lead us to a more open, participatory, less authoritarian society sooner rather than later. We have not yet reached a stage where we can claim to have realized a stable and sustainable democratic system of government which embodies, in a variety of institutions and mechanisms, the ideal of political power based on the will of the people. Further, little in the present or the past in Ethiopia promises the success of any such thing, yet people want democracy and many believe it is the only possible solution to the twin ills of poverty and misrule.
---
---
'War Clouds Gather…'* Over the Nile
By Challa Gudina
"War clouds gather as nations demand a piece of the Nile" is how the UK based Times-online has titled a recent article on the Nile issue. For several generations now, Egypt has been engaged on saber rattling and using various tactics to bully and control the waters of the Nile. It has been waving an old and moth bitten rag of a Colonial treaty paper giving it veto power on the River by Great Britain. The fact of the matter is that the Nile River, 85% of which come from Ethiopia, never belonged to Britain, and therefore, Britain had no right to give it away in the first place.
---
---
Rigging election legally: What you should know about Ethiopia´s election system?
By Zekarias Ezra
The government has allowed EU observers. I for one would like to commend for that. I believe as a government they do not owe the international community or any one except the Ethiopian people to conduct a fair and open election. Having lived for so many years in the States, I have found that American election itself cannot be called fair and open in the true sense of the word.
---
CONSISTENCY WITH THE ENTIRE PROCESSES AFFIRMS NOTHING
UNUSAL IN ETHIOPIA'S MAY 23RD ELECTORAL OUTCOME!
By Genet Mersha, 30 May 2010
The government has allowed EU observers. I for one would like to commend for that. I believe as a government they do not owe the international community or any one except the Ethiopian people to conduct a fair and open election. Having lived for so many years in the States, I have found that American election itself cannot be called fair and open in the true sense of the word.
---
CONSISTENCY WITH THE ENTIRE PROCESSES AFFIRMS NOTHING
UNUSAL IN ETHIOPIA'S MAY 23RD ELECTORAL OUTCOME!
By Genet Mersha, 30 May 2010
I was quite surprised to read in the EU preliminary report of 25 May a reference to the Association of Families of the Derg as a part of the Coalition of Ethiopian Civil Societies for Election Observation (CECSEO). I strongly support the role of local civil society organizations observing the election, only if they are allowed to be free and independent. For instance, how free and independent could members of that association of family members of former government who already live in fear. If not about that, I was doubtful about the whole idea, as I indicated in my article of 30 March 2010, "TPLF (EPRDF)—HARDLY GOOD MIDWIFE FOR THE FUTURE DEMOCRATIC ETHIOPIA" (www.tecolahagos.com). I used the following words to express that scepticism:
---
Sudan hands over 46 rebels to Ethiopia
Saturday 29 May 2010
The Ethiopian National Intelligence and Security Service (NISS) said on Thursday in a statement aired by state-TV the opposition members had planned to launch attacks during the election in order to sabotage it
---
[Updated]
A Perfect Fit: Meles Zenawi and the People of Ethiopia
By Tecola W. Hagos [May 25, 2010]
I reject the result projected by the Election Board of the Government of Ethiopia as a matter of principle. I heed the many statements by the opposition and international journalists and civic organizations that repeatedly claimed that there was going on systematic marginalization of the opposition coupled with the implementation of repressive legislations against the opposition since the aftermath of the massacre of unarmed demonstrators after the Election of 2005.
---
Yes, a Fake Election, but for what Purpose?
Messay Kebede
From such a resounding demonstration of force, we can even expect a timid opening of the political space. Now that things have been straightened out, the game of "free election" can resume with the understanding that the right to oppose––a gracious gift of the victor––must never include the goal of defeating the TPLF.
---
EU monitors slam Ethiopia polls
EU observers said the elections were conducted on an "uneven playing field" and favoured the EPRDF [Afp
The European Union's chief election observer in Ethiopia has said that last weekend's poll was conducted on an "uneven playing field" that favoured the party of the prime minister. Ethiopia's ruling party, the Ethiopian People's Revolutionary Democratic Front (EPRDF) won the elections, according to preliminary results.
---
Ethiopia: Government Repression Undermines Poll
International Election Observers Should Condemn Voter Intimidation
May 24, 2010
Ethiopians vote inside a polling station in the capital Addis Ababa on May 23, 2010.
© 2010 Reuters..Related Materials: "One Hundred Ways of Putting Pressure".Behind an orderly façade, the government pressured, intimidated and threatened Ethiopian voters. Whatever the results, the most salient feature of this election was the months of repression preceding it.Rona Peligal, acting Africa director.(Nairobi) - Ethiopian government and ruling party officials intimidated voters and unlawfully restricted the media ahead of the May 23, 2010 parliamentary elections, Human Rights Watch said today.
---
Plunge In, No Straddling a Political Fence
By Tecola W. Hagos
We Ethiopians in the Diaspora need to pledge our loyalty to our Motherland in the manner the Hebrews directed their dedication every year promising to return one day to their Motherland from wherever, as lamented by King David in Psalms 137: 5-6: "If I forget you, O Jerusalem, may my right hand forget her skill. May my tongue cleave to the roof of my mouth if I do not remember you. If I do not exalt Jerusalem above my chief joy." By the same token let us pledge and dedicate our lives to unite, and to solidify our patriotism in promoting the Sovereignty and territorial integrity of Ethiopia . To that end let us all pledge to continue our struggle against the oppressive anti-democracy regime of Meles Zenawi at all times. Support and Vote for Medrek!
---
---
Why Ethiopians Must Support Medrek and Aspire for A Democratic and Peaceful Transition


Ghelawdewos Araia
If the EPRDF acts in the same manner as it did during the 2005 election and grabs power by force, it should not be a shocking revelation, for it has become standard practice in EPRDF's operations to stifle any democratic process that is perceived as threat to the status quo. The Ethiopian people knew too well about this kind of scenario and it is no longer a mystique obscurity. But they could be scared of government forces including the intimidating cadres, the police, the secret service, and the military forces.
---
Food For Thought
I would like to share with you all, at this time of great tribulation in the life of our Motherland and our People, the soothing words of John Donne. John Donne addresses
both the universality of human aspirations as a community and the suffering of each individual in society. He gives us hope too, for he portrayed our activities are all in the presence of God. These thoughts of John Donne are appropriate for us to ponder at this point in the political life of our Motherland, for in a Week there will be a National Election in Ethiopia where our parents and brothers and sisters will go to the polling stations to enter their choices of our future leaders, with nothing more than their deep faith in the humanity of those who are in charge and in power, who have been rigging votes and oppressing the nation for years. TH
Meditation XVII: No man is an island...
---
Lemlem Tsegaw
I read the article titled "Meles Zenawi and His Distortion of Ethiopian History by Tecola W. Hagos May 15, 2010" with great interest and excitement. I was not disappointed. As a matter of fact I was proud and delighted that some one of his (Proffesor, Hagos' caliber) responded to such gross generalization and politically manipulated response by Meles. To me Meles sounds still angry with a sense of compassion as though he is still in his gorilla fighting status - defending Eritrea.
---
Meles Zenawi and His Distortion of Ethiopian History
By Tecola W. Hagos May 15, 2010
I watched a truly despicable video of an interview given by Prime Minister Meles Zenawi of distorted representations of Ethiopia 's history, comments on the decision of the United Nations in regard to the disposition of Colonial territories, and on issues and concepts dealing withself-determination, as part of his bid for Office in the 2010 elections. In lue of the fact that Ethiopia's historians and international relations experts are not engaged to correct such distortions and are quietly allowing Meles Zenawi to keep propagating his lies and distortions of Ethiopian History and vital interests without proper challenge, I have stepped in to defend Ethiopia's illustrious history and its historical and legal rights to all the territories that had been alienated through illegal means.
---
Quo Vadis Ethiopia? (Ethiopia Wodet?)
A personal opinion: By Ayal-Sew Dessye
(Note: This article was to be presented at the "Horn of Africa Conference" held at Pentagon City in Virginia. I'll state my observation about it at the end).
PART I
I. Background:
Why should, at this point and time, any Ethiopian care about where Ethiopia is heading? What exactly is at stake for Ethiopians as a people and Ethiopia as a country and why? What are Ethiopians' fears and hopes as individuals and as a people? Does the future of a country entirely depend more on a certain generation or generations than others and at a certain time under certain circumstances? Which generation's responsibility is it to care about the future of a country?
---
Ethiopian Reality: Quo Vadis* Opposition? [Ethiopian Reality: Where to From This Point On?]
Tecola Hagos - (June 13, 2005)
In order to build the Ethiopia of our future, we need to be cognizant of our past and current history in order to learn to avoid similar mistakes of our predecessors. We need to use history in a creative manner to solve future problems. We should not be held hostages by our history or put in a straightjacket of history. We should be able to communicate with each other in a non-confrontational manner to resolve political and economic problems. Our national security depends on how well we work with each other. This seems to be a new beginning for all of us. Some of us have hurt Ethiopia much more than others; nevertheless, there need be a change of attitude from feelings of being victim to feelings of empowerment. For whatever has happened in our past, in some way, we all are collectively .......
---
A short response to Dr. Tecola Hagos's Endorsing Medrek
Liberal Democracy vs. Participatory Democracy vs.
Revolutionary Democracy
14 May, 2010 | By Teodros Kiros (Ph.D)
I applaud Dr. Tecola Hagos's characteristically honest response to my recent article, "in defense of Participatory Democracy and against Revolutionary Democracy" and Liberal Democracy".I think Dr. Hagos is very much mistaken in judging the article as neitherenlightening nor timely. I think it is both, depending on the reader's mood.
---
Liberal Democracy vs. Participatory Democracy vs. Revolutionary Democracy
By Tecola W. Hagos
We call upon all Ethiopians to set aside their ethnic based affiliations and their animosities, and support Medrek in all legally acceptable ways. This is the one chance, among many we had unnecessarily squandered, where we could be able to channel the course of our future history. Our single enemy is in the Person of Meles Zenawi, with his close associate. I even dare to say the Members of the TPLF are not our enemies, they are simply trapped in a mafia type structure where they are unable to exercise their democratic rights as Ethiopian Citizens. They are forced into adopting a divisive Ethnic identity that challenges and fractures our historic Motherland. The same could be said to each member of the other political Parties in the EPRDF. All such Members must know that there is a great life after Meles Zenawi and his criminal organization setup.
---
Medrek Support Group North America (MSGNA)
May 13, 2010
In just ten days, the Ethiopian people will be heading to the polling stations to cast their votes and in all likelihood the majority will vote for candidates of the opposition party, Medrek or Forum. The ruling party, the Ethiopian Peoples Revolutionary Democratic Front (EPRDF), chaired by the Prime Minister, Meles Zenawi, is terrified and trembled than ever before in the face of Medrek, the voice of the Ethiopian people.
---
In Defence of Participatory Democracy and against
Revolutionary Democracy and Liberal Democracy:
9 May, 2010 | By Teodros Kiros (Ph.D)
The historic nation of Ethiopia is populated by a historic people, who produced the Obelisks at Aksum, the churches of Lalibela, the classical songs of King Yared, the literary productions of Emperor Zara Yacob, the philosophical orature of the Oromos, the art works of Gambella, the lash and green of the south, and of course, the philosophical masterpieces of Zara Yacob.
---
All the way with Medrek driven by the vision of Birtukan
By Robele Ababya | May 11, 2010
The top leaders who represented Medrek – Engineer Gizachew Shiferaw, Ato Seye Abraha, Dr. Negaso Gidada, Ato Gebru Asrat, Dr. Hailu Araya and the young and vibrant Secretary General of UDJP, Ato Andualem Aragé - held their ground so well proving their worth in Medrek. I have some more to say here about Ato Seye to respond to some of my virulent critiques in respect of my article entitled "A question to ask – actions to take". One of my critiques asked "Is Seye worth defending?" and another one demanded I should give up my name. But I will never give up my name given to me by my Oromo parents and I am proud to keep my Gobenite psyche of which OLF supporters accuse me.
---
New Version
Bonsai Ethiopia : Aesthetic Beauty and Artistic Beauty
[A Diversion from Fixation on Politics]
By Tecola W. Hagos [May 10, 2010]
Political courage is also sublime when practiced against an entrenched power structure and the leadership thereof. There were exemplary instances in history where sublime act of courage is manifested by few under most daunting situations. For example, the three hundred Spartans facing off half a million Persian soldiers at Thermopile, the throng of very poorly armed patriotic Ethiopians standing firm against well-equipped modern army of Italy in several parts of Ethiopia, or the handful Ethiopian opposition political parties engaging the violence of Meles Zenawi's Government and its security machine in 2005 and now et cetera. Such are acts of sublime courage. Of course, the ultimate courage is to forgive those who do harm us, as the Christ did forgive from the Cross, in great pain, those who were responsible for his suffering. Such a life would be authentic and sublime. When Abraham expressed in our discourse at the Arboretum about his dream of becoming a "park ranger," what he was seeking was precisely an authentic and sublime life, fully expressing the notion of "the courage to be."
---
The Bonsai Nation: Stunted Ethiopia[Unwarranted Analogy]
By Tecola W. Hagos May 2, 2010


Except for the very few lucky Ethiopians, growing in Ethiopia is a process that is akin to the training of Bonsai trees. We, Ethiopians in general seem to suffer delayed maturity; we are made to feel that we are in perpetual teenage years. This is a cruel distortion of our growth, no different than binding us down with wires and feeding us with minimal social responsibilities. This is not how one creates responsible citizens. This cruelty in the deformity of our personality, in the inhibitions and stunting of our mental growth can be observed in the many chat postings in the Internet.
---
By Genet Mersha, 1 May, 2010
PART II
The past weighs heavily on the forthcoming election
In its conversations and policy approaches, the regime has always boxed the question of internal conflicts into a quixotic policy framework of denial. Mentioning of this problem is confronted with attacks, intimidation and in fact nowadays are used as subterfuge to discredit and subdue the legal opposition or independent minded critics. The problem is still there, despite denials. Innocent citizens are thrown to prisons for alleged support of insurgents, or being one.
---
---
We have been informed by reliable sources about the ongoing registration by EPRDF members forcing voters to register to cast their vote for EPRDF ahead of the election. Such action may be considering as an election fraud a crime that corrupts the process. Please see the registration form.
---
---
---
« Ethiopia's Abundant Farming Investments Leave Many Still HungryJamming in Ethiopia Virtually Silences Free Voice, Experts Say »Cruel Ethiopia
New York Review of Books, US
Helen Epstein
May 13, 2010
The Western Renaissance helped to democratize "the word" so that all of us could speak of our own individual struggles, and this added new meaning and urgency to the alleviation of the suffering of others. The problem with foreign aid in Ethiopia is that both the Ethiopian government and its donors see the people of this country not as individuals with distinct needs, talents, and rights but as an undifferentiated mass, to be mobilized, decentralized, vaccinated, given primary education and pit latrines, and freed from the legacy of feudalism, imperialism, and backwardness. It is this rigid focus on the "backward masses," rather than the unique human person, that typically justifies appalling cruelty in the name of social progress.
---
[Part Two] The Rebirth of Ethiopia : Medrek the Winner
By Tecola W. Hagos [April 23, 2010]
Instead of skepticism and cynicism, all of us ought to rejoice by the fact that one or several of Ethiopia's errant sons found their way back home to Mother Ethiopia and are ready to serve their fellow Ethiopians, even sacrificing their lives if need be. It requires great courage to admit ones mistakes and even more so to take a positive step to correct that mistake.
---
Debate # Six: Another Miscalculation or Ignorance? The Fog over Ethiopia's Two-Decade Old Foreign & National Security Policy
By Genet Mersha, April 22, 2010
---
---
The Rebirth of Ethiopia : Medrek the Winner
By Tecola W. Hagos [April 20, 2010]
Negasso identified Ethiopia as "a wreath of flowers," whereas each flower is beautiful on its own, but in the garland connected as one by strong ties all the diverse flowers transcend their individual limitations and become a field of greater beauty. I pondered that image long after the conference was over, and it still is fresh in my memory as I write, and I am ecstatic in having that profound image in my arsenal of love for our Motherland when I think of Ethiopia . Thank you my brother Negasso for such profound insight.
---
---
---
Ethiopian athletes make convincing victories at Paris, Daegu marathons
Saturday, 17 April 2010
Atsede Baysa and Tadesse Tola produced an impressive Ethiopian double victory at the 34th Marathon de Paris in the French capital on Sunday. Other Ethiopian athletes Deressa Chimsa and Yeshi Esayais of Ethiopia took convincing victories at the second edition of the Daegu International Marathon on Sunday.Baysa broke the women's race record with her 2:22:04 performance, the fastest in the world this year while Tola smashed his personal best by more than nine minutes to take the men's title in 2:06:41.
---
The past of Seye Abraha et al in perspective


By Eskinder Nega | April 16, 2010Seye Abraha's commanding presence and well delivered speech on foreign affairs in last week's televised debate between political parties has vexed EPRDF leaders, say sources. Their only solace is Seye's rather brash characterization of the recent row between the EPRDF and the Obama administration as "staged drama"; which went down well with the public but will hardly endear the opposition with the diplomatic community in Addis.
---
ETHIOPIA AND UNITED STATES HISTORY, DIPLOMACY AND ANALYSIS
BY GETACHEW METAFERIA
NEW YORK:ALGORA PUBLISHING, 2009 208 page.The book is available at Amazon.com and also at Barnes and Noble
---
From the Editor: I ask forgiveness for taking the privilege of an editor in imposing on my readers and visitors by reposting an article from some five years ago. The article is one thousand percent relevant to our own time, especially for the 2010 National Election. I could not have stated our historic dilemma any better a second time, Please, read carefully and critically. TH

Ethiopian Reality: Quo Vadis* Opposition? [Ethiopian Reality: Where to From This Point On?]

Tecola Hagos - (repost, April 14, 2010)
In order to build the Ethiopia of our future, we need to be cognizant of our past and current history in order to learn to avoid similar mistakes of our predecessors. We need to use history in a creative manner to solve future problems. We should not be held hostages by our history or put in a straightjacket of history. We should be able to communicate with each other in a non-confrontational manner to resolve political and economic problems. Our national security depends on how well we work with each other. This seems to be a new beginning for all of us. Some of us have hurt Ethiopia much more than others; nevertheless, there need be a change of attitude from feelings of being victim to feelings of empowerment. For whatever has happened in our past, in some way, we all are collectively .......
---
Ethiopian Airlines 'Interested' in Report of Bomb Aboard Crashed Jet Source:
A report on a U.S. Internet Web site says British intelligence agents have reopened their investigation into the mysterious crash of an Ethiopian Airlines jet January 25.The "G2 Bulletin" Web site, which calls itself an independent online intelligence newsletter reports an operative of the group al-Qaida in the Arabian Peninsula told interrogators the aircraft was destroyed by a suicide bomber trained in Yemen.
---
National Consciousness, Nation-State and the Problem of Economic Development

Discussion Paper for Seminar presented to the Conference on Good Governance,

Peace, Security, Sustainable Development in Ethiopia & the Horn of Africa, from April 9-11
By Fekadu Bekele, April 9, 2010
The present Ethiopian government which has sold its soul for the international financial oligarchy has thrown our country into an economic system which is mere service oriented. According to the philosophy of the regime, only trading activities and export of unprocessed agricultural products must be the basis of economic development. Ethiopia must not build a strong home market on the basis of science and technology.
---
Seattle Welcomed Medrek political Leaders
Assefa Gebrewold (Our Reporter from Seattle) April 10, 2010
Medrek leaders from Ethiopia namely Engineer Gizachew Shiferaw, Dr. Negaso Gidada, and Ato Gebru Asrat conducted a crucial meeting with more than 200 Seattle
Ethiopian residents and residents from neighboring areas on Saturday, April 10, 2010 at Garfield Community Center. The meeting was very civil and familial. My observation came to mind during the meeting that was thrown as question and comment to the leaders of Mederk. The leaders expressed that politics is not static but dynamic force that frequently tune to the local and global contemporary politics. It is true at one historical junction we lead to dismantle the brutal regime of the Derg to its demise, than after we changed our views on a number of key issues. Experiencing this difference can cause thoughtful people to change their views, while still holding onto principle. Today Ethiopian politics to accommodate various forces it become an ideological tug-of-war.
---
Ghelawdewos Araia, Ph.D April 10, 2010
Abstract: This article critically examines the current politics in Ethiopia pertinent to the rule of law, governance and the broad range of philosophical foundations of justice. Above all, the article discusses the ongoing pre-election debates, and as a matter of interest to the Institute of Development and Education for Africa (IDEA, Inc.), the focus will be on the education debate.
---
Ethiopia and the United States: Hot and Cold Relationship – A Challenge to the Future of Ethiopia
By Tecola W. Hagos April 10, 2010
What is ironic is the fact that it was Ethiopia that committed its modest resources on behalf and in support of the interest of the United States first. After the reestablishment of diplomatic relationship and exchange of Ambassadors for the first time in 1949, a year later in 1951 Ethiopia sent its heroic soldiers to serve in Korea in support of the policy of the United States . They served from 1951 to 1954. Ethiopia sacrificed its brave sons (121 dead and 536 wounded) in that military engagement supporting the United States . [Getachew, 45] Nothing comparable had happened from the American side up to that point in time or later. Unlike the United States , the honorable Korean people and Government erected a monument to the brave Ethiopian soldiers that sacrificed their lives safeguarding Korea from the ravages of communism.
---
Donald Levine (Liben Gebre Etyopiya)
Gwadotchu had big dreams and lived them out.
Schools built–count them! Clinics made–count them!
Industries stoked! Roads laid! Universities established!
"And when we suffered in the bush,
One thought, one dream, kept me going:
To see the common people of my
Country going to the polls and voting, freely."
---
Abune Zenamarkos: His Apostolic Mission Preparing Ethiopians For the Challenges in the New World
By Zewge Fanta Seattle, U.S.A
The Ethiopians in the Diaspora and the Ethiopians in the homeland cannot exist without each other. The well being of Ethiopians in the homeland is detrimental to the well beings of Ethiopians in the Diaspora. Ethiopians' human dignities were grossly violated in their own country and so, people in the outside World have acted the same way towards Ethiopians.
---
Editorial: Most Pleasing Posting From Warka: The Great Ethiopia
I have taken the liberty by posting what appeared in Warka (April 3, 2010) as one of the most profound statements I have read in years about the hope of Ethiopia 's renaissance. By reposting such wonderful insights in my Website, I am imposing on my readers my deep commitment to bring back the glory of Ethiopia into the minced and fractured lives of Ethiopians despite the racist policies and activities of Arabs and the United States Government to divide and destroy Ethiopia . All Glory to Ethiopia and all of its diverse People. TH
---
Ethiopia and the United States : Unhealthy Relationship
By Tecola W. Hagos April 3, 2010
The reality on the American political stage was that Roosevelt as a consummate predatory politician was thinking of his own political life with an eye on the votes of the Italian-Americans most of whom campaign in support of Italy against Ethiopia. The Mafia of Sicily by way of New York City and Chicago had a hand in all that anti-Ethiopia and anti-black rhetoric in shaping the US policy of the time. "In the 1930s, the 'Italian vote,' which had fluctuated between the two parties, became solidly Democratic in support of Franklin D. Roosevelt and the New Deal."
---
Happy Easter to All, Ethiopians and the World at Large
By Tecola W. Hagos
Easter represent to me of renewed hope and renewed life. It is a symbol of the undying human spirit. It affirms the resilience of man, as symbolized by the death and resurrection of a simple and humble Jewish man, Jesus. The poet Shelley put it in a universalized symbolism fabulously by stating that "If winter comes, can spring be far behind?" It is the resurrection of the Christ that he was alluding to, but it is also the resurrection of the human spirit. For us Ethiopians, this particular Easter has special significance. We have suffered nineteen long years under the brutal yoke of oppression of Meles Zenawi and his anti-Ethiopia subversive Mafia-like organization. Meles Zenawi is the son of a banda traitor, who in turn had betrayed our national Sovereignty and territorial integrity. He is looting our gold and treasure to the tune of at least five billion dollars since 1992 in collusion with a greedy con man called Mohammed Al'Amudi.
---
Donald levine
"HURRY UP PLEASE IT'S TIME"
The Waste Land lends me words, all I can think today
As sweet Ethiopia wades through swamps that choked it so long.
"If you don't like it you can get on with it."
Please don't say that to me. For I have watched,
While the best and brightest of ten generations
Have bled, screamed, groaned, died. My friends, my brothers and sisters.
I have tried, these fifty years, to show the patterns.
---
Symposium on Ethiopian Current Issues March 27 2010፡Report
March 31, 2010
Sponsored by the Ethiopian Unity Diaspora Forum
(EUDF), the United Ethiopian Democratic Forces (UEDF), and the Ethiopian People's Revolutionary Party – D)
---
TPLF (EPRDF)—HARDLY GOOD MIDWIFE FOR THE FUTURE DEMOCRATIC ETHIOPIA
By Genet Mersha, March 30, 2010
PART II
At the end of Part I of my article, The People vs. TPLF—Tigrai…Addis Ababa Scale up Defiance of March 23, I closed with an idea from democratic law and legal precedents that voting is a form of free speech. This second part would pick up from there to state my reasons for denying my approval and support for the TPLF (EPRDF). Already the election environment is strained by shenanigans, widespread fears and undue pressure on voters by unfair and illegal vote canvassing. Widespread are ill-treatments, harassment and imprisonment of opposition candidates, party members and their supporters, so report news sources.
---
[Is Ethiopia the worst country for women? Read below for contrast.]
The World's Best Country for Women
By Marie Claire
If you want to be happy, healthy, and powerful, you might consider packing your bags and moving to a picturesque country on the other side of the Atlantic. According to a new report, Sweden tops out as the #1 place for women to live. Is it the year-long maternity leave? The chance to date four men at once? The unisex public bathrooms? (Ewww!)
---
THE PEOPLE vs. TPLF (EPRDF)—TIGRAI (ADOWA, AXUM, MEKELE, TEMBEIN), ADDIS ABABA… SCALE UP DEFIANCE
By Genet Mersha, March 23, 2010
As the countdown to May 23rd election is ticking, the month of March has witnessed the most intense political activities in Ethiopia to date in this election season. We see a questioning public mood; we hear lots of accusations and counter accusations by the parties. There is no doubt that March has not been a favourable month for the governing party. The tide has been beyond the capacity of TPLF's well-greased propaganda machine. It has failed to dispel the attack by opposition political parties in three out of four debates to date. Nor does the TPLF image appear well shielded from the arrogance of power that has now linked it to some horrendous crimes and scandals that it desperately is trying wash off Nonetheless, some appear too sticky to whitewash and may even have serious repercussions going forward, whether the Front wins the election or is booted out by popular decision.
---
Symposium on Current Ethiopian Issues
The joint Committee consisting of the Ethiopian Unity Diaspora Forum (EUDF), the United Ethiopian Democratic Forces (UEDF), the Ethiopian Peoples Revolutionary Party (EPRP – D) extends its invitation to all Ethiopians in the Diaspora and Friends of Ethiopia to the Symposium on Ethiopian Current Issues, of March 27, 2010 to be held at Meriden Hill Hall, Howard University.
---
Opposing Meles Zenawi and the EPRDF: A Moral Imperative
By Tecola W. Hagos, March 21, 2010
International accolade for Meles Zenawi is a slap to the opposition in Ethiopia, and an undeserved promotion of Meles Zenawi as an international statesman. Such irresponsible acts by the Secretary General and the leading Western Nations had dealt Ethiopia's local political challenges to Meles Zenawi a devastating blow. The United Nations Secretary General Ban Ki-moon selected Meles Zenawi and Gordon Brown to co-chair the Advisory Group on Climate Change Financing, on the World's environmental issues, for funding and for the purpose of distribution of billions of dollars worth of funding, has given Meles Zenawi a new golden armor of invincibility. But the World Community that is held hostage by the powerful nations knows as much as Ethiopians do, the corruption and treason as well as crimes Meles Zenawi has committed against tens of thousands of Ethiopians and the State of Ethiopia itself. The leading Western Nations and the Secretary General of the United Nations owe us an apology
---
Was 1915 Massacre of Armenians by Ottoman Turks Genocide?
By Andre de Nesnera | Washington 18 March 2010
The Ottoman Empire sided with Germany "And they then carried out systematically, deportations of Armenians from eastern Anatolia, first demobilizing the Armenian soldiers who were serving with the Ottoman army, forcing them to dig their graves and shooting them. And then women and children, deporting them into the deserts of Syria, massacring them along the way and ultimately killing thousands and thousands when they reached Dayr az Zawr, the end point in the Syrian desert," he added.
---
Debates and the 2010 Ethiopian Election:
Report and Philosophical Reflection
By Teodros Kiros (Ph.D)
In direct contrast, living democracy builds on the hidden resources of individuals. Clarity, creativity, courage and internal power, the potential virtues of democratic citizens turn toward life.New Ethiopianity needs Living democracy with new eyes. We need to begin seeingdifferently, by engaging our clear, creative, appropriately fearful and internally powerful senses. Living democracy as a way of life, demands that we engage ourselves with life' challenges in a concrete way. Change is fundamentally an inner experience, which then spills over the external world. A changed individual can then seek to change the external world. The inner world is a world of fear, impossibility, but also hope and change. Living Democracy is dynamic cycle of hope and fear, fear and hope.
---
The joint Committee consisting of the Ethiopian Unity Diaspora Forum (EUDF), the United Ethiopian Democratic Forces (UEDF), the Ethiopian Peoples Revolutionary Party (EPRP – D), and extends its invitation to all Ethiopians in the Diaspora and Friends of Ethiopia to the Symposium on Ethiopian Current Issues, of March 27, 2010 to be held at Meriden Hill Hall, Howard University.
---
Kaleb Gebremeskel

March 12, 201

Given the brutality and intolerance of Meles and his party, the 2010 election, like the 2005 election before it, may end up in the bloody attack of the opposition by police forces. But if things go well and a relatively civil electoral process is conducted, Medrek may not capture state power but it would definitely secure sizable seats in the parliament and could enjoy legitimacy as the main opposition in the legislature.
---
Meles Zenawi's Action Plan for 2010
By Fekade Shewakena, March 11, 2010
The stabbing of an opposition parliamentary candidate and the brutal beating of another in Tigrai by Meles Zenawi's thugs last week, only days after the latter made a code loaded speech at the TPLF anniversary in Mekele, where he referred to his opponents as the mud, the riffraff, and the enemy, fall perfectly in line with the tactic and strategy set out for "winning" the May 2010 election. All indications, including the rush by government officials to explain how the victim died before even any preliminary police investigation, show that Meles Zenawi's finger prints are all over the killing. Some ferenjis may be willfully fooled. We Ethiopians know the drill and we get it.
---
Wednesday, 10 March 2010
በየማነ ናግሽ
ሌቪን እንደሚሉት፣ በተለያዩ ወገኖች የተለያዩ ጥፋቶች እየተፈጸሙ ቢሆንም፣መንግሥት "የአንበሳውን ድርሻ" ይወስዳል፡፡ በተለይ የተቃዋሚ ታርቲዎች አባላትና ደጋፊዎችን ማዋከብና ማንገላታት፣ የምርጫው ሒደት ላይ የሚፈጸሙ ስህተቶችና ክፍተቶችን በመሙላት ፕሬስ ከፍተኛ ሚና እንደሚጫወት፣ ነገር ግን በጠላትነት እየተፈረጀ ስለመሆኑ፣ ግልጽነትና ተቀራርቦ አለመነጋገር፣ የመሰብሰብና የመደራጀት መብቶች አለመከባበር፣ ወዘተ ይዘረዝራሉ፡፡ ገዢው ፓርቲ ኅብረተሰቡን በሴቶች፣ በወጣቶች ፎረሞችና ሌሎች ሊጎች እያጨናነቀ ስለመሆኑ፣ ሁሉን ሰው አባል ለማድረግ የሚያደርው ሩጫ በዘላቂነት ዴሞክራሲ ለመገንባት ያለውን ቁርጠኝነት አጠያያቂ ያደርገዋል ይላሉ፡፡ ሌቪን፣ ኢህአዴግን ብቻ አልወቀሱም፤ ተቃዋሚዎችም የአካሄድ ለውጥ ያስፈልጋቸዋል ይላሉ፡፡ መግሥትንና ተቋማቱን ዕውቅና መስጠት፣ ቅሬታቸውን ለዓለም አቀፉ ኅብረተሰብ ከመናገር ይልቅ አገር ውስጥ ላሉ ሕጋዊ አካሎች ማቅረብ፣ መንግሥትን ከማጥላላትና ለማሸነፍ ብቻ ከመሮጥ ለመተጋገዝና ለመነጋገር መሞከር እንዳለባቸው ይመክራሉ፡፡
---
March 5, 2010
By Professor Richard Pankhurst
Nicolae Titulescu, with whom we are concerned in this article, was a Romanian scholar and statesman who devoted his life and career to the principles of the League. Born in 1882 he undertook his primary and secondary studies in his native Romania, after which, graduating with distinction, he travelled to Paris to read international law, and was awarded a doctorate. He was also active at this time in the Romanian National Committee which worked for Romanian national rights
---
---
'The Democracy Paradox': Electoral Preparations Hint Gearing up Towards Known Outcome


By Genet Mersha, 5 March 2010
The opposition sees devolution of power in Ethiopia as counterfeit. EDP started right from the centre, saying that the division of powers itself in the centre is not a true constitutional division between the three branches of government. It equated the present reality to cooperation between the powers. It accused EPRDF of hindering the true devolution of power to the regions through such an arrangement. It said that is designed for the TPLF to ensure its hold on power. The guise used for this is ethnic issues and group rights, which contradicts the rights of the individual citizens.
---
ካሕሳይ በርሀና ተስፋይ አፅብሃ
---
የሕወሃት/ኢሕአዴግ ታጣቂዎች በትግራይ የመድረኩ ተወዳዳሪዎችን መግደል ጀመሩ
March 3, 2010
አቡጊዳ – የካቲት 23 2002
የኢሕአዴግ/ሕወሃት ካድሬዎች በትግራይ ከፍተኛ ሽብር እየፈጸሙ እንደሆነና
የአገሪቱ ሕገ-መንግስት መድበለ ፓርቲን የሚፈቀድ መሆኑም እየታወቀም፣
የአገዛዙን ጸረ-ኢትዮጵያና ጸረ-ሕዝብ ፖሊሲዎች በመቃወም በሚንቀሳቀሱ
ወገኖች ላይ፣ ከማስፈራራትና ከዛቻ ያለፈ የኃይል እርምጃ በመዉሰድ ላይ
እንዳሉ ከስፋራዉ የደረሰን ዜና ያመለክታል።
---
Ethiopia Opposition Rethinks Election Campaign After Candidate Killed
Peter Heinlein | Addis Ababa 02 March 2010
Ethiopia's main opposition bloc is reconsidering whether to contest the May parliamentary elections following brutal attacks on two candidates, one of them fatal. Opposition leaders are blaming Ethiopia's ruling party for inflaming passions in the tense Tigray region, where the attacks occurred. Arena-Tigray Party leader Gebru Asrat says candidate for parliament Aregawi Gebreyohannes was stabbed to death by intruders in his home in the early hours of Tuesday morning.
---
Medrek Support Group North America (MSGNA)
February 22, 2010
The EPRDF and the Meles regime represent a corrupt system and they preside over patronage politics that have ignominiously devastated the Ethiopian political and social milieu. Medrek, on the contrary, represents an ideal of a democratic transformation of Ethiopia through the democratic process and not by the barrel of gun as the EPRDF does. While the EPRDF regime enjoys at suppressing freedom of expression and jails journalists and politicians of the opposition, Medrek, as its name implies, favors democratic dialogue.
---
"DEMOCRACY AND MULTIPARTY ELECTION IN ETHIOPIA"—DEBATE EXPOSES DEEPENING DISTRUST OF RULING PARTY
Genet Mersha February 25, 2010
What is astonishing is that how much between November 4 and early February things have turned 360 degrees, despite high hopes the agreement has aroused amongst the signatories. Instead, it has now become vindication of Medrek's refusal to be a part of, despite the hounding from every corner that it should sign. If AEUP's threat becomes real, undoubtedly it would become the first serious verdict against the behaviour of the ruling party that the nation has known all along and that international observers cannot go against this time around.
Meanwhile, this initial warning shot by the AEUP leader has turned TPLF/EPRDF into a beaver trying to salvage the situation before the case is made against the electoral processes. Surely, one of these days we may read in the news about a new split within AEUP or EDP, for which the ruling party has achieved unmatched notoriety. The fact that the electoral processes are not controlled by an independent electoral body simply means, as in the past, anything less than victory for the TPLF/EPRDF, God forbid, would end up turning the situation into a bloodbath and greater human sufferings.
---
The Great Confusion - The Poverty of Development Economics
Fekadu Bekele
In order to build a harmonious society, we must abandon such kinds of buildings that are common in many Arab and Asian countries. Such kinds of buildings do not reflect the wishes of the masses and they disturb the human mind. We must turn to city buildings which incorporate all aspects of human life, and bring imaginations to human soul. Forty or fifty story buildings are not necessary in Africa, and maintenance costs cannot be affordable. For an aesthetical building style we can use the knowledge of foreign forces that are ready to work and live in Africa. We can go to the extent that we can invite those gifted individuals with all kinds of practical knowledge to come, to live there and teach us. Instead of inviting those so-called experts who until now distort the African economy, it is by far better to invite those Europeans who have practical knowledge, like handicraft activities of all types. Only this way Europe could develop.
---
Article Follow-up and Response: If I were …
By Tecola W. Hagos
If our goal is to modernize our beloved Ethiopia , we will not be able to do it where our export is less by three times than our import. We will not be able to do it wearing three piece suit of expensive wool. We need to adopt Mahatma Gandhi's concept of self reliance and humility. We need to wear with pride our homespun and ride gharis or walk to work. We need to develop our mass transport and cut drastically our conspicuous consumption of manufactured Western goods. These are recommendations easier said than done because they demand attitude changes: they require new and profound patriotic commitment on most Ethiopians
---
---
WE GRIEVE AT THE PASSING OF HIS GRACE ABUNA ZENA MARKOS, OUR GREAT CHURCH FATHER OF THE ETHIOPIAN ORTHODOX CHRISTIAN CHURCH (Tewahdo)
Abuna Zena Markos died on Saturday February 13, 2010.
We celebrate the exemplary life of Abuna Zena Markos, a life of service and compassion, of one of the great Fathers of our Ethiopian Orthodox Christian Church. Let us all remember the life he lived and be lifted from our daily grind in the glory of God's infinite grace for favoring us with the service of one of his most dedicated and humblest servants, Abuna Zena Markos. Let us not be discouraged in his passing, but be uplifted by his Christian life's work. For he had dutifully followed in the footsteps of the Christ in the service of his fellow man, he continues to live in the heart of all of us. We thank also ethiomedia.com and several other media for posting in timely manner the sad news of the passing of our much loved and admired Spiritual Father, His Grace Abuna Zena Markos. Requiem Eternum.
---
Growth & Unt Growth & Unrest Said To Taunt Ethiopia in 2010: The Contradictions the Nation Has Become 
By Genet Mersha, February, 13, 2010PART V
The World in 2010's testimony of positive growth
prospects in Ethiopia is likely to arouse expectations amongst citizens. However, notice that beyond the headline and the details of the numbers, its forecast is deliberately accentuated with implied concerns over its sustainability and the economy's lack of internal dynamism. It states, "As the global economy emerges from recession most of the leading performers in 2010 will be minor emerging markets, especially aid-driven countries in Sub-Saharan Africa." It then attributes Ethiopia's to IMF's financial support on one hand and favourable weather for agriculture on the other that could make it "one of the world's fastest-growing economies" this year.
---
Barking Up All Kinds of Trees: A Response to Tesfaye Habisso
Donald Levine
I find it difficult to imagine that many EPRDF members accept this claim. Apart from the peculiarity of blaming the United States for instigating Ethiopians' violence following the 2005 elections, just voicing such a claim stands to discredit international concerns about human rights violations and modern electoral standards–which Tesfaye staunchly supports as has the Ethiopian Government.
---
Rural Industrialization in Ethiopia: Time for Action
Getachew Mequanent
On behalf of the Ethiopian Diaspora
Eighty-three perecent of Ethiopians live in rural areas still deriving their livelihoods from subsistence agriculture. The concentration of crop and livestock productions in the highland areas, coupled with population growth and inappropriate land use, has resulted in the depletion of resource bases (land, water and vegetation). Despite the gains in agricultural production in recent years, Ethiopia still remains faced with the problem of food insecurity. The time has thus come to consider concerted efforts that support rural industrialization which would lead to a reduced reliance on subsistence agriculture as a main source of livelihoods while transforming the economy and promoting long-term food security.
---
EFFORT emptied Development Bank of Ethiopia
By Abebe Gellaw | February 5, 2010
In mid-January, the ailing Development Bank of Ethiopia (DBE) declared once again that it is in need of rescue fund. The business weekly, Addis Fortune, reported that the bank called on the National Bank of Ethiopia (NBE) to inject more capital to refill its empty cash registers.
---
INCREASED ROLE OF PARTY-OWENED ENTERPRISES IN BUSINESSES & THE ECONOMY RAISES SEVERAL SERIOUS CONCERNS. FOR MANY, THE QUESTION IS WHAT IS HAPPENING TO THE EXPRESSED NATIONAL OBJECTIVES OF:
By Genet Mersha
It is extremely troubling why the ruling party is so driven about pushing new visible and invisible policy doors. It has opened immense political and legal support to its business enterprises, including the country's banks made to give them priority over others. Could that be the reason why only TPLF/EPRDF members preside over the boards of party-owned businesses and major government enterprises including banks?
---
The Politicization of Food Aid Under One-Party Rule in Ethiopia
By Seeye Abraha February 1, 2010
The West has provided hundreds of millions of dollars of food aid to Ethiopia in the past several years. However, donor countries have placed few monitoring and accountability mechanisms to ensure that the aid provided is delivered to the target populations. As a result, the ruling party has been able to effectively use relief aid to mobilize support for itself and undermine support for its opposition.
---
Press Statement
The United Nations Human Rights Council officially declared
that UDJ Chairperson W/t Birtukan Mideksa is among those prisoners
who are arbitrarily arrested
UDJ will continue to pursue its course of peaceful endeavor to see our leader Birtukan Mideksa and other prisoners of conscience released and freedom and democracy become a reality in Ethiopia. We call upon the international community to stand on our side in the pursuit of this noble and common cause. It would be a serious mistake to believe that anyone's interest could be protected in an environment where repression rules.
---
WHY IS THE VATICAN ADDING INSULT TO INJURY ON ETHIOPIA ?!
Kidane Alemayehu.
I
feel sure you're aware of the fact that the Vatican is in the process of beatifiying Pope Pius XII into sainthood although it is well known that he was a major supporter of the Italian Fascists who committed genocide in Ethiopia. The Jewish community is expressing its serious objections because of the Pope's collaboration with the Nazis. Ethiopians have more cause for objections to the process.
---
Ethiopian Banker Leads Development Agency for Obama Administration
As chief of the Millennium Challenge Corporation, Daniel Yohannes, is the highest
ranking Ethiopian American in Obama's government.
An Ethiopian immigrant is making history as the highest Ethiopian-American official in the Obama administration. Daniel Yohannes was born in the Ethiopian capital. He completed his elementary school at Addis Ababa's Nativity Boy's School and later transferred to St. Joseph's, a prestigious Catholic high school in Addis Ababa. "In those days people of my generation were idealistic, full of energy, with a lot of love for each other, as well as love and respect for our parents, elders, and teachers," Yohannes says Yohannes tells about some of the successes. Ghana, he points out, is making commercial agriculture more profitable and reduce the cost of transporting food from rural areas to markets.
---
Residents of Addis Ababa crying out for freedom
By Astway Yared
According to residents of Addis Ababa, the regime has put in place multiple controlling mechanisms, which are designed to control the daily activities of citizens. Currently, the regime has established new structures called Urban citizens' league ("Yeketema Newariwoch League"), "Women League", "Youth League", and "Youth Forums". League and forums are a newly introduced organizing techniques intended to control citizens. One woman said "if citizens decide to abandon these League and Forum meetings, they will be under the threat of receiving no social services from their Kebele, including wheat".
---
Protecting Ethiopia?: On Outside Support for Human Rights
By Donald Levine
It is in this age-old spirit that some Ethiopians warn today of new dangers of encroachment in their country and in Africa generally. This fear may well be exacerbated by recent leases of expanses of land to Saudi Arabia, India, and Egypt, and by published reports that some 50pc of Chinese businesses reportedly operate in Ethiopia illegally.
---
Haiti: Our Great Friend in Need
Tecola W. Hagos January 18, 2010
We urge our Ethiopian brothers and sisters to give and help as much as possible to the victims of this horrendous devastation. The suffering of every single Haitian is ours as well. Let us remember how our Haitian brothers and sisters, without exception, helped our cause during the Fascist Italian aggression and occupation of our beloved country Ethiopia in 1935-41.
Please, participate actively in every way you can by denoting money to charitable organizations, and by volunteering to Work in the recovery process in Haiti . Please, contact the Red Cross, the Haitian Embassy et cetera for such humanitarian purposes. Let us use our wide network of families, friends, neighbors, colleagues, and community members for such purpose. It is our duty to help our fellow human beings in time of their greatest needs, and it is also our obligation of gratitude to the kindness shown to us by Haitian in our time of great need.
---
Passion and Interest: The Faking of Tigrean Nationalism
Messay
Kebede
January 18, 2010
Our surprise should decrease even more in light of ethnic discourse authorizing oppressive behavior. The clear message of ethnonationalist discourse in Ethiopia is that there is nothing common between Amhara, Oromo, Tigreans, and other groups. They are all different nations that the Amhara state held together by sheer force. Given this image of Ethiopia as a "prison-house of nations," what can we expect from TPLF fighters when they land in Wollega, Gondar or Wolaita? Obviously, they come as conquerors and occupiers since no bonds exist between them and the indigenous people. In denying the existence of a country called Ethiopia, the TPLF fighter is thereby invited to behave as a foreigner occupying an alien land that he/she will ransack without the slightest hesitation.
---
AS ETHIO-EGYPTIAN ACCORD TAKES EFFECT,
AL AHRAM RUBS SALT ON OLD WOUNDS
By Genet Mersha, January 12, 2010
In fact, Mr. Nikrumah insinuates as though Ethiopia has said, "take whatever you want, but make sure you cooperate with me in the economic field. Even then, the best he could is to state, "Egypt, too, [compared with Israel] stands poised to prove that it can offer technical assistance to Ethiopia. Though no small challenge, it is one that can be met."
---
---
POLITICS HAMPERS PROGRESS ON POVERTY ERADICATION,

BALANCED GROWTH, FAIRNESS, DEMOCRACY AND JUSTICE
By Genet Mersha, January 4, 2010
In Ethiopia's case, the slogan is growth with distribution. To that end, numerous actions have been undertaken. Nonetheless, in spite of these and significant GDP growths, the data suggest loud and clearly that poverty is on the rise, instead of declining. This speaks of a strategy anchored on shifting grounds. This could be the outcome of growth processes hijacked by the dictates of political interests rendering pro-poor growth toothless. Obviously, the desire to break out of the shackles of poverty is there, although priorities have changed to overcoming the damage the tragic 2005 election has caused. As the French would say
---
Journalists facing supreme court vendetta
By Abebe Gellaw*
The people at the helm of the Federal Supreme Court know the difference between justice and vengeance. They know that justice is blind, a concept that underlines the neutrality of the judiciary. But blinded by political and ethnic interests, the Supreme Court judges have preferred to dispense injustice with vehement vendetta against the perceived political enemies of the regime.
---
Birtukan Mideksa: Ethiopia 's Freedom Supernova
By Abebe Gellaw, January 1, 2010
Those who have been consumed with self-destruction and bickering even within her party in stead of unifying against the rise of Stalinism and Apartheid in our homeland should remember a woman, who has chosen to suffer in harsh jails than kneeling down to despotism
---
Book Review: Tadesse Tele Salvano's Ay Massawa!
By Messay Kebede, December 31, 2009
The book presents an encircled army defending with courage and determination the port of Massawa against the ferocious attacks of the EPLF's military forces assisted with units of the TPLF. This army unit of 17000 men resisted for ten long days even though it had no other choice than death or mere surrender: it could neither retreat as the Red Sea blocked any backward move, nor receive reinforcements given that the EPLF firmly controlled the road to Asmara. The book is all together an epic, an immense tragedy, and a great tribute to Ethiopian nationalism. Many combatants were killed on both sides although the book does not offer figures of the dead, the wounded, and the prisoners.
---
EDITORIAL:

UN Sanction against Eritrea is ill Advised,

"Ahyawin tito Dawlawoon"

By Tecola W. Hagos, December 29, 2009

Both China and Russia in some ways may act in their own self interest, which may restrict the ever growing imperialistic and hefty decisions of the West. My dissatisfaction of the decisions of the powerful Western nations is not an opposition to their economic structure that had brought about unheard of wealth to the World in general, but their poor foreign relations and terrible foreign policies. I particularly resent their subservient relationship and difference to Saudi Arabia, which should not even be considered as a government, but a family business with abominable and absolutely dictatorial primitive system of law and system of management. It is laughable that the West would be imposing on little and poor Eritrea sanction for "destabilizing" the Horn region, while Saudi Arabia, the Gulf Emirates, and Egypt, the main forces that have caused havoc in the region for the last half century are held in reverence.
---
UN DATA INDICATE ETHIOPIA'S PROGRESS
ON MAJOR MDG TARGETS HAS LONG WAY TO GO
By Genet Mersha, 27 December, 2010
Part I of this article rang the bell that poverty and inequality have deepened in Ethiopia. With the help of data, it showed where Ethiopia stands in respect of attaining the three targets of Goal One of the United Nations Millennium Development Goals (MDG). The internationally defined objective of Goal One is to eradicate extreme poverty and hunger.
---
PART FIVE:
Lacrimosa for Ethiopia: Political Liquidation of EPRDF/TPLF
By Tecola W. Hagos [December 23, 2009]
There is an Ethiopian aphorism that is always a source of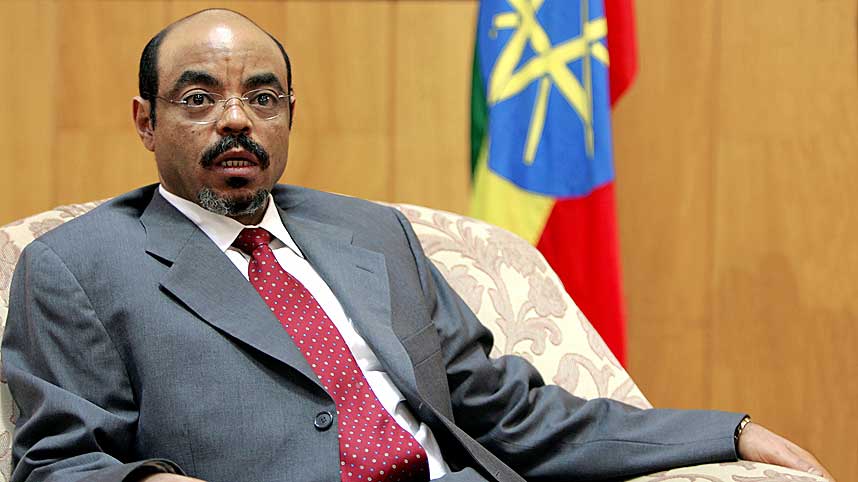 fascination to me every time I think about Meles Zenawi and his close associates: When Totit (a young agile ape) was asked what type of contest-game she liked best, she answered, "Ye zaf ly tigle." [trans. "Wrestling on tree branches."] What Meles does best in politics is the equivalent of wrestling on tree branches metaphorically speaking, where he is adept with arboreal acrobatics of lies and deceptions. To counter his form of contest is not to go after him to tree tops up in the air, but to pull him down to Earth with pragmatic strategy and short term tactics. Medrek is a group I believe destined to rescue Ethiopia from destruction. It is the best aggregation of politicians and intellectuals that could effectively transform Ethiopia into a unitary and multi-ethnic nation-state and on to a strong rich and humane country in the near future.
---
The Honorable Judge Birtukan Mideksa, We at the Website www.tecolahagos.com are wishing you Melkam Genna and Year 2010 of Justice. We want you to know that you are never far from our thoughts every single Day. We Protest your illegal and barbaric imprisonment by the Government of Meles Zenawi and his Close Associates, in the strongest terms possible. We offer you as part of our greeting a Poem by Dr. Ghelawdewos Araia. TH
---
By Ghelawdewos Araia
What have you done my dear
To be thrown into the jail of Qaliti
Is it your elegant appearance?
Or your formidable political stance
---
By Haileselassie Girmay
What is this thing I carry - empty sack,
Funny enough
It is tough,
It weighs me down
Like no other thing has done,
I have no use for the paunch,
Whatsoever none,
Please take it if you can.
This grey matter
Inside the skull,
Ideas together it could not pull.
---
The Beauty of Faith: The Lalibela Ethiopian Cross -
The Most Beautiful Cross in the World
By Tecola W. Hagos, December 18, 2009
Reprint as Season's Greetings, Melkam Genna and a Happy New Year www.tecolahagos.com
In this one design, the Christian dogma and the history of the Church are both encapsulated in an exquisitely balanced expressive design. [The first Lalibela Cross depiction at the top herein in this article is the base for all Lalibela Cross variations.] The Cross is based on two elongated circles intertwined with each other, where one simply continues or merges into the other, symbolizing the temporal and the eternal, or Heaven and Earth, or the Spiritual and the Physical aspects of Creation.
---
Locke me in a fridge
I will not get cold
And my blood clot.
If I hold on to you - eternal flame
Death will not triumph and claim.
By Haileselassie Girmay
---
IMF/World Bank & the Clientele of Failing States: The case of Ethiopia's chronic famine syndrome
Laeke Gebresadik December 12, 2009
The problem of food crisis has its deep roots in the structural changes of the farming sector since the 1984 famine. The commercialized food aid and austerity programs of the IMF/World Bank and World Trade Organization (WTO) on the agricultural sector, and the economy at large, are the forces that have failed Ethiopia to achieve food security for its people since the great famine.By the year 2004, twenty years after the great famine, farmers and their families in Ethiopia trapped in a cycle of draught and government mismanagement became established customers of human misfortune for rich farmers and mill companies in the United States.
---
POVERTY & INEQUALITY DEEPEN, DESPITE ECONOMIC GROWTH:
IS IT SYMPTOMATIC OF POLICY FAILING THE POOR, OR GROWTH?
By Genet Mersha, December 17, 2009
In making this conclusion, this writer declares her awareness that accelerated economic growth in Ethiopia has begun from a low base, and real growth is only six years old, out of the eighteen, since the regime has been in power. Even then, unfortunately, the momentum of growth and national development has been taking place in a climate beset by policy inconsistencies, political polarization, uncertainty and corruption. At the individual level, rife is state-inspired fear and insecurity and public resentment against curtailment of civil liberties.
---
Remarks by MCC CEO Daniel Yohannes at the Public Outreach Meeting after the December 2009 Board Meeting
December 10, 2009 - As prepared
I'm grateful for the Senate's swift confirmation of my nomination. Congress is an important partner for us, and I am looking forward to working with the many men and women on Capitol Hill who are dedicated to MCC's mission of reducing poverty. I am also looking forward to getting to know, and working with, all of you. This is my second week on the job and this is what I know for sure: MCC is expanding opportunities for the world's poor through a system built on transparency, results, and new thinking in development.
---
grapeshot of the Ethiopian Revolution
By Aymro
Ato Meles, cuts a similar figure to Louis Napoleon, the same arrogant pride, deceitfulness, monarchic aspirations (overt in Louis & covert in Meles) and bloody-mindedness. They both turned out quite costly to the countries they misruled; Louis Napoleon foolishly conquered Mexico with disastrous consequences and was then manipulated by Bismarck into declaring war on Germany and then soundly beaten. Ato Meles, has given away the seacoast, fought a foolish war with Eritrea and invaded Somalia a few times. All these wars have been disastrous to Ethiopia's economy with no benefit to anyone.
---
The Mystery and the Glory of Ethiopia
A leap of faith to Ethiopia's ancient holy sites
By Mark Sissons | December 12, 2009
The mind tends to wander when you're trying to catch a glimpse of the only man on Earth who's allowed to see the Ark of the Covenant, the shiny gold box said to hold the tablets of the Ten Commandments. How do you get that job? Is there a security clearance? Does it come with medical and dental, or is your well-being pretty much overseen by the Almighty? I couldn't help but think: Indiana Jones would have loved Axum.
---
Press Release: U.S. URGES FURTHER ETHIOPIAN ACTION ON HUMAN RIGHTS


The United States considers a vibrant and independent media to be one of the pillars of a strong democracy. As such, we are concerned about the recent closure of the Addis Neger newspaper, and the allegations of harassment and intimidation of private media. The outstanding charges against private journalists, editors, publishers, and media houses may also contribute to a perception that space for independent media in Ethiopia is constrained. Ethiopia's constitution guarantees freedom of the press and that the press shall enjoy legal protection to ensure its capacity to entertain diverse opinions.
---
A MANIFESTO FOR UDJ: Moral Economy, an Alternative to Capitalism and Socialism
By Tewodros Kiros, PhD
When famines occurred and deep inequalities became a way of life, it was the duty of the rulers to uphold Maat and measure the depth and extent of the suffering. Not that this ideal was perfectly upheld, particularly when nature overwhelmed the rulers ideals, but there was at least an absolute and objective standard by which social/ political life was judged and measured.
---
EDITORIAL: Addis Neger [victim of Meles Zenawi's Oppression]
By Tecola W. Hagos
December 9, 2009
Nothing infuriates me more than the mistreatment of mothers and children. I could easily go into epileptic convulsion when I hear about harm done to the most valuable and yet the most vulnerable members of society. The next groups of people that I believe deserve all the protections we can muster are reporters, editors, and publishers, people who inform, educate, and galvanize us. Without free press and open communication, a nation and a people have no life and no future. Of all the fundamental freedoms, the right to free speech and expression is the most foundational and cannot be delaminated from the right to life.
---
December 7, 2009
In a matter of one week, open lawlessness wins twice in Addis Ababa. On 29 November 2009, Unity for Democracy and Justice (UDJ) had called an Extra-ordinary Congress scheduled to be held at the Imperial Hotel. The meeting was permitted by the Addis Ababa City Administration in writing. The permit was copied to the relevant security and law enforcement bodies. UDJ also had delivered a copy of the permit to the Police Command, under whose jurisdiction Imperial Hotel is, to make sure that it had reached the immediately responsible body. The Extra-ordinary Congress was openly disrupted by a group of individuals who were dismissed from the party for disciplinary reasons and UDJ asked for police help. No help came. The government failed to uphold the rule of law and lawlessness reigned at the Imperial Hotel.
---
Do You Remember Me? Ethiopia .......!
"Do You Remember Me? "
""Yes! I do! How couldn't I!
I am the river you found me dry.
Your parched throat about to crack,
Water, plenty that I have & that I don't,
Was what you were heard cry!
---
Poems from Arsenic and Humor: A Book of Verses [manuscript]
By Tecola W. Hagos [Phineaus] (three poems)
---
From Abbay Media
Addis Neger ceases publication
Posted in December 4th, 2009
by Editor in Press Freedom, Press Release
---
LETTER TO THE EDITOR
On Professor Mesfin, UDJ, and Medrek
The test of a difficult time can hardly be overcome by slicing one another
By Genet Mersha
Lately the actions of the man I respect have reminded me of the words of the famous economist Paul Samuelson. He emphasized that, in a changing world, the risks are too many, especially as "customs may be so unyielding that societies become extinct defending their traditions." Ethiopian pride comes to mind, cherished as it is. However, I mean no disrespect in saying I turned into the Doubting Thomas the day Prof. Mesfin pushed further into political activism as his latest vocation. For all I understand, his well-recognized trademark has been opposing whatever everyone supports, the type of which he has unwisely demonstrated now. It seems his frailty—not in the least in the physical sense—has become more evident now than anytime before.
---
PART FOUR
Lacrimosa For Ethiopia : Medrek and the "Code of Conduct"
By Tecola W, Hagos – December 1, 2009
How many Ethiopians, among the opposition or in general, would have the type of personal individualized courage as some of Ethiopia's heroes from our past, such as Abraha Deboch, Moges Asghedom, Belai Aschenaki, Zerai Deres, Abuna Petros et cetera? I am not advocating here recklessness or terroristic activities, but focusing on the mental preparedness and courage of such individuals. By contrast, I find Ethiopian politicians in the opposition camp in general (I know or heard about) to be not forthcoming and secretive. However, I do not want to be misunderstood here, for there are very heroic Ethiopians like Judge Birtukan Mideksa and others who are facing the brutal Government of Meles Zenawi with exemplary courage.
---
---
Part Three: Lacrimosa for Ethiopia Hailu Shawel's Posse
By Tecola W. Hagos, November 27, 2009
The claims of Mankelkilot and of chat room vulgar amateur politicians, who hide behind strange false names, that I helped in the conceptualization and drafting of the Kilil system are patently and utterly false and silly. I had already left the country when the 1995 Constitution was being drafted. I was already in friction with Meles Zenawi and his support group for a year by then (1992-1993).
---
Event at Ghioni (Amharic &English)
Although I realize that there are many remaining tasks that have to be carried out to make UDJ even a strong national party and an inviting common home for all Ethiopians, I would like to assure you all that I am in full agreement with the pillar values enshrined in the draft programme. I have full confidence that, based on these fundamental pillars values, we can make this party with great potentials, a truly strong party.
---
---
---
Ethiopia: Meles Zenawi's Ploy for Copenhagen Conference
By Selam Beyene, November 23, 2009
The dictator has instituted draconian laws to restrict the activities of NGOs who work in the field of human rights and other areas that are incompatible with the corrupt and repressive policies of the regime. In particular, the law has severely curbed the ability of environmental NGOs to educate the public at large on climate change issues and to expose the destructive environmental policy of Zenawi's deceitful government.
---
U.S. Senate Confirms Daniel W. Yohannes as CEO of Millennium Challenge Corporation
Washington, D.C. -- Today the United States Senate unanimously confirmed President Barack Obama's nomination of Daniel W. Yohannes as the new Chief Executive Officer of the U.S. Government's Millennium Challenge Corporation (MCC). As CEO, Mr. Yohannes will undertake MCC's mission to reduce poverty through economic growth.
---
Messay Kebede
Articles fulminating against Hailu Shawel's signing of the code of conduct proliferate on Ethiopian websites. For these articles, the unilateral and hasty agreement with Meles while other opposition groups, such as Medrek, are still in contention about some important issues, constitutes nothing less than betrayal on Hailu's part. This act of sabotage suggests, according to some articles, a prior agreement with the Meles regime promising Hailu a post in the future government in exchange for his contribution in dividing and weakening the opposition.
---
ELECTION 2010: WHO WOULD WIN—POLITICS OR THE PEOPLE?
By Genet Mersha, November 17, 2009
Even then, nothing irks Eng. Hailu Shawl as much as Medrek's complaints about the imprisonment of its members. His advice to Medrek is not to waste its breath (The Reporter, 8 Nov), as his party also continues to suffer similar fate. He says, "We do not cry loud. We follow up with letters. Sometimes we get positive responses, sometimes not. They [the EPRDF] do not like it when one is loud about such things
---
---
PART TWO
By Tecola W. Hagos November 15, 2009
III. The Mahel Sefaris Back in Power
I share in principle with Fayyisa the signing of the Code of Conduct by Meles Zenawi on one side and Hailu Shawel, Lidetu Ayalew, and Ayalew Chemiso on the other is a betrayal. The best way to learn the point of view of an opposition group is to the source as far as possible and read what the members and supporters write or state in public forums. The best way to show how a stick is crocked is not by arguing about it, but by laying a straight one next to it.
I am using as my subsection title after my favorite book title The Oromo of Ethiopia (1994) by Professor Mohammad Hassen. Without sounding divisive, insincere, or patronizing, I cannot think of any other group of Ethiopians of my parents and my generations as dynamic in heroic deeds.......
---
---
THE MEDUSA AND THE NUDIBRANCH:
An assessment of the political life of Ethiopians
Tecola W. Hagos - May 22, 2006 [Reposted November 14, 2009]
If some Ethiopian Opposition leaders or supporters lash out and take extreme positions and blame by association this or that ethnic group along with the current or past political leaders, it is very understandable. Nevertheless, I will try to point out where we failed to bring about effective leadership and suggest further solutions to our monumental problems. The decision of very many Ethiopians in the Opposition to stand against an oppressive government is something to be applauded and supported. However, even the slightest hint of using ethnic difference as a political rallying tool is to be condemned and quashed in its infancy. We have learned a very expensive lesson how the current government has alleged against the Opposition leadership and supporters of promoting ethnic animosity as their tool for political opposition, and proceeded to arrest and charge them with treason and attempted genocide.
---
By Tecola W. Hagos
November 10, 2009
The losers in the current game of the signing of the Code of Conduct and realignment of the EPRDF with its newest Member Hailu Shawel (AEUP) are the people of Ethiopia , not Hailu Shawel and his Party, not Medrek or anybody else. Meles Zenawi has gained another day to prepare for far longer and devastating fight against all those who are concerned about the vital interest of Ethiopia , the Opposition et cetera. He has extended his life to do more damage to the state of Ethiopia entrenching his divisive Killel system, alienating Ethiopian territory, selling/leasing huge chunk of Ethiopian land to foreign investors and states while millions of Ethiopians starve to death. He will keep looting Ethiopia 's gold in collaboration with Alamoudi.
---
DIFFERENT VIEW
Ethiopia : The Zenawi-Shawel Handshake – the Anti-Thesis of Liberty & Democracy (Analysis)
By Fayyis Oromia [November 5, 2009]
What do these two persons have in common? Why did the handshake happen? Why was it surprising to most Ethiopians, in general, and "shocking" to Amharas, in particular? Did the "Oromo factor" play a certain role for the handshake to happen? What is the relation of this handshake to the hitherto attempts made to achieve the necessary compromise between Amhara democratic forces and Oromo federalist movements in the formation of the recent alliance aka Medrek?
---
Major General Demissie Bulto and the coup d'état of May 1989:

a book review

By Teodros Kiros (PhD)


Great books arrive on the reading scene at the right time and for the right reason. So does Derege Demissie's, Abate Yachin Se'at: Major General Demissie Bulto and the Coup d' etat of May 1989. Such books create their own readers. The book is so compellingly presented that readers cannot wait until they wrap themselves around with it. It has created a new CULTURE OF WRITING and with it a new breed of readers. The newness of the readers is unction of the literary merits of the author. Derege writes well.
---
በአ.አ ከ29-10 እስከ 31.10.2009
ስብሰባ ተካሄደ
! እኛስ ምን እየሰራን ነው?
---
"A Guide for the Perplexed" (On the Future of Ethiopia) Tecola W. Hagos
[Reposted October 30, 2009, originally posted May 10, 2002]
We too, the "educated" few Ethiopians of the last fifty years, stagnated within narrow wells of conformity, and hardly ever allowed original thinking to seep in, which would have helped us move away from the doldrums of political ideology. Even worse, we desperately tried to imitate our aristocrats and feudal class in our personal behavior. We never truly internalized any of the democratic principles we pontificated, in our own daily lives. We are hypocrites and delusional. Whether we are promoting universal suffrage, or democratic centralism, it seems we were always the center of every political structure we intended to erect for Ethiopia . We seem to have no genuine respect of our fellow Ethiopians who toil from Sun Rise to Sun Set maintaining the continued existence of our nation. Even though most of us are the sons and daughters of such people, we have no stomach for rural life or for work that requires physical exertion.
---
የሚያድግ ኢኮኖሚ ነገር ግን የማይታይ የማይዳሰስ ! ፈቃዱ በቀለ
በአለፉት አስር ዐመታት በጠቅላይ ሚንስተሩና በፊናንስና በኢኮኖሚ ዕድገት
ሚንስተራቸው በአቶ ሱፍያን አህመድ፣ እንዲሁም ደግሞ አገዛዙን በሚደግፉትና በልዩ
ዓለም ውስጥ የሚኖሩት፣ በየፓል ቶክ ውስጥ የሚደነፉት ጀግኖች፣ አገራችን ከዚህ ቀደም
ታይቶ የማይታወቅ ዕድገት የሚታይባት አገር እንደሆነችና ህዝቡም በኑሮው እንደተሻሻለ
ሲምሉ ሲገዘቱ ይሰማል። በተለይም ደግሞ፣ አዲስ አበባ እዚህና እዚያ የተተከለው ህንፃና
የመጨፈሪያ ቤት የአንድ አገር ኢኮኖሚ ዕድገት ምልክት ሆኖ የሚታያቸውና፣ ይህንን
በቪዲዮ በመቅረጽ ሊያሳምኑን የሚሞክሩት፣ እዚያው በዚያው ደግሞ ሺህ በሺህ
የሚቆጠረው ህዝባችን በድህነት ዓለም ውስጥ ዘፍቆ በመኖር የዕለት ምግቡን ከቆሻሻ
እየለቀመ እንደሚበላ በመካድ ነው። አገር ቤት በየዐመቱ እየተመላለሱ ከጉብኝት ሲመለሱ
ስለአገራችን ሁኔታ ከሚነግሩን እህቶቻችንና ወንድሞቻችን የምንሰማው ግን በስታትስቲክስ
ከተደገፈ ማስረጃ ሺህ ጊዜ እንደሚበልጥና፣ ስለሁኔታውም አስከፊነት አንድ የኢኮኖሚ
ምሁር ነኝ ባይ ከሚል የበለጠ እየዘረዘሩ የሚነግሩን እንደ ህያው ማስረጃ መሆኑን
ማረጋገጥ ይቻላል።
---
Dropping the Substance for the Shadow?
Messay Kebede
Jawar makes me say that "leftist ideology is responsible for growth of 'ethnic' nationalism, secessionist demand, and armed struggle" and then contests my alleged statement by citing liberation movements that are not leftist. Yet, my reference to leftist ideology was only echoing his own analysis of the legacy hampering the OLF. To quote him, "OLF is a foster child of the student movement that brought the revolution; as such it shares some common organizational behaviors and characteristics with all other organizations that came out that era, such as the EPRP, TPLF and EPLF"; "the political forces that emerged from the student movement were led by individuals who worshiped Mao Zedong and Stalin, so they embraced such undemocratic, rigid and control freak organizational model." True, there are non-leftist nationalist movements, but in the particular case of Ethiopia,
---
የኢትዮጵያ ፋዯራሊዊ ዳሞክራሲዊ አንዴነት መዴረክ (መዴረ
---
Editor's Note:
We, at this Website are very proud of the distinguished Ethiopian Agronomist Dr. Gebisa Ejeta for his outstanding and pioneering scientific work in developing "sorghum hybrids resistant to drought and the devastating Striga weed" where by advancing the well being of vulnerable millions of human beings in Africa and elsewhere. We congratulate Dr. Gebisa for being the winner of the 2009 World Food Prize. We hope the rest of the World applaud the great work of this great scientist whose life work is dedicated to the service of mankind. We believe if any one deserves to be awarded the 2010 Nobel Prize for outstanding scientific work, the Nobel Committee would award the Nobel to Dr. Gebisa Ejeta, under one of the categories such as Humanitarian, Peace awards, or create a new one on Feeding the Poor; Advancing Scientific Work et cetera. Let us start the nominating process of awarding the 2010 Nobel to Dr. Gebisa Ejetaby by writing to the Nobel Committee.TH
---
Strategic and Cleaver-Politick: A Response to Tedla Asfaw
By Tecola W. Hagos
October 14, 2009
I wish the author had shown some restraint from labeling the leading members of the opposition who have formed Medrek as "TPLF known loyalists" a phrase that simple discredit his otherwise profound concern about the "politicks" of Ethiopia. The people named as "loyalist" by Tedla Asfaw in his short essay are not newcomers to the political scene of dissent or controversies in Ethiopia . Just like all great politicians they have evolved.
---
Withdrawal of Book Review and Commentary [Henze's Book]
By Tecola W. Hagos
As a result of my rereading and reconsideration of material overlooked by me and on the basis of new information as indicated below, I have withdrawn my recent review and commentary of Henze's book. [Paul B. Henze, Ethiopia in Mengistu's Final Years: The Derg in Decline, Vol. I, Shama Books, Addis Ababa: Ethiopia, 2007; Ethiopia in Mengistu's Final Years: Until the Last Bullet, Vol. II, Shama Books, Addis Ababa: Ethiopia, 2007.] Moreover, as an issue of regional policy, the whole scheme of fracturing and land locking Ethiopia was absurd and against well established principles and norms of international law—against principles of jus cogens.
---
---
---
World's oldest human-linked skeleton found [In Ethiopia]
'Ardi' predates Lucy by a million years, changes scientific view of origins
By Randolph E. Schmid AP
October 1, 2009

WASHINGTON - The story of humankind is reaching back another million years with the discovery of "Ardi," a hominid who lived 4.4 million years ago in what is now Ethiopia.
The 110-pound, 4-foot female roamed forests a million years before the famous Lucy, long studied as the earliest skeleton of a human ancestor.
This older skeleton reverses the common wisdom of human evolution, said anthropologist C. Owen Lovejoy of Kent State University.
---
---
---
---
Follow up on Professor Messay Kebede's Article "On the Right to Self-Determination" of August 19, 2009. [Taken from chat discussions.]
---
On the Right to Self-Determination
By Messay Kebede August 19, 2009
Let me begin by what amazes most: the defenders of the right to self-determination have rejected everything of Stalin (Lenin and the Soviet Union), except his view of nations and nationalities. It is for me next to impossible to understand how scholars and politicians stop short of being critical of the Stalinist doctrine of self-determination even as they know that Stalin has been entirely wrong in everything. What are the chances for a doctrine whose inherent perversion led to such disastrous consequences to be right on the crucial issue of nation-building? My contention is that, far from promoting free union, the right to self-determination actually blocks it. It is when union becomes unconditional that it forces peoples to find a form of accommodation that suits them all. Here is an illustrative analogy: if two competing individuals decide to build a house together, their cooperation makes sense if the house becomes their common interest, that is, if both intend to live in the same house. However, if one of the partners is at the same time building another house, whatever partnership they had becomes so suspicious that it comes to an end.
---
PRESS RELEASE

August 17, 2009

ERITREA-ETHIOPIA CLAIMS COMMISSION RENDERS FINAL AWARDS ON

DAMAGES

The armed conflict between these two Parties caused serious injury and damage to the people

and infrastructure of these two countries, which the Commission recognized are among the

poorest on earth. While the compensation awarded to each Party is substantial, the

Commission recognized that it is probably much less than each Party believes it is due. The

Commission stated: "The difficult economic conditions found in the affected areas of

Ethiopia and Eritrea must be taken into account in assessing compensation here."
---
Letter Report from Former President Negaso Gidada, Disruption of a Public Meeting
16th August, 2009
Addis Ababa, Ethiopia
To All, Mob Disrupts UDJ public Meeting !!!!
---
Experts worry about negative consequences
INTERNATIONAL AGRCULTURAL LAND DEALS AWARD: ETHIOPIAN VIRGIN LANDS TO FOREIGN COMPANIES
By Genet Mersha, 12 August 2009
During the last one year, the international media have reported with noticeable frequency on international agricultural land deals in Ethiopia. In Ethiopia, land is under government control and, therefore, cannot be sold or bought. Of the dozen or so African countries engaged in such deals, for varied reasons the cases of Ghana, Madagascar, Mali and the Sudan have also attracted similar attention.
---
Ethiopian Israeli Filmmaker Pulls No Punches
Shmuel Beru, who arrived in Israel in 1984 in the first wave of Ethiopian Jewish immigrants, tells his people's story in the award-winning 'Zrubavel.' But not that many white Israelis are listening.
By Edmund Sanders Los Angeles Times Staff Writer
August 14, 2009 Ethiopia's resilient prime minister
---
I saw the article, "Israeli bus driver to Ethiopian: No blacks allowed", posted on your website www.tecolahagos.com. It is something we should all learn from. As far as the rest of the world are concerned we are all black, sometimes derogatorily called "niggers", "jungle monkey", "Kushite", etc. Nobody gives crap whether we are Oromos, Amharas, Tigres, Gurages, etc. All "niggers" according to many !!
---
Israeli bus driver to Ethiopian: No blacks allowed
Posted in August 12th, 2009
by Editor in Current News
Woman recounts humiliating experience in which bus driver told her, 'Kushit, in Ethiopia you didn't even have shoes and here you do, so why don't you walk?'; Egged to investigate incident A 23-year-old woman of Ethiopian descent claimed that the driver of an Egged No. 5 bus in Rishon Lezion refused to allow her to board his bus because of the color of her skin. Speaking to Ynet, Yedno Verka recounted last Wednesday's incident: "As I prepared board the bus, the driver suddenly shut the door. I banged on the glass, but he ignored me. Then a young woman came running towards the bus, and he opened the door for her. I stayed close to her and boarded the bus.
---
መሐመድ ሌላው የኢንቨስትመንትና የማኔጅመንት አካሄድ

ውጤታማ

ስላልሆነ በወርቁ ያለው ውጤታማ ሊሆን ይችላል ወይ

የሚል

ሥጋት አለ፡፡ Reporter
---
---
---
The Dangerous Hype behind the Ethiopian Commodity Exchange (or Commodity Invasion?)
By: Seid Hassan, Murray State University
It is our hope that many Ethiopians have watched the PBS/WNET documentary film under the title of The Market Maker/Wide Angle, which was broadcast beginning on July 23, 2009. This documentary followed the Ethiopian
economist, Dr. Eleni Gabre-Madhin who is the CEO of the relatively newly established Ethiopian Commodity Exchange. Many of us were waiting for the documentary to show us how the ECX could "… transform the Ethiopian economy by becoming a global commodity market of choice," as claimed in the ECX's main web page. That was not to be.
---
Outrage over EFFORT-led corruption
By Abebe Gellaw ǀ July 27, 2009
In response to Ethiopia and Zenawi's gangster capitalism, an article I published a few weeks back that tried to highlight the biggest and most flagrant corruption scheme in Ethiopia, the Endowment Fund for the Rehabilitation of Tigray [EFFORT], I received numerous comments via email
---
---